Appendix: Addresses
Kip Sperry, Kirtland, Ohio: A Guide to Family History and Historical Sources (Provo, Utah: Religious Studies Center, Brigham Young University, 2005) 193–202.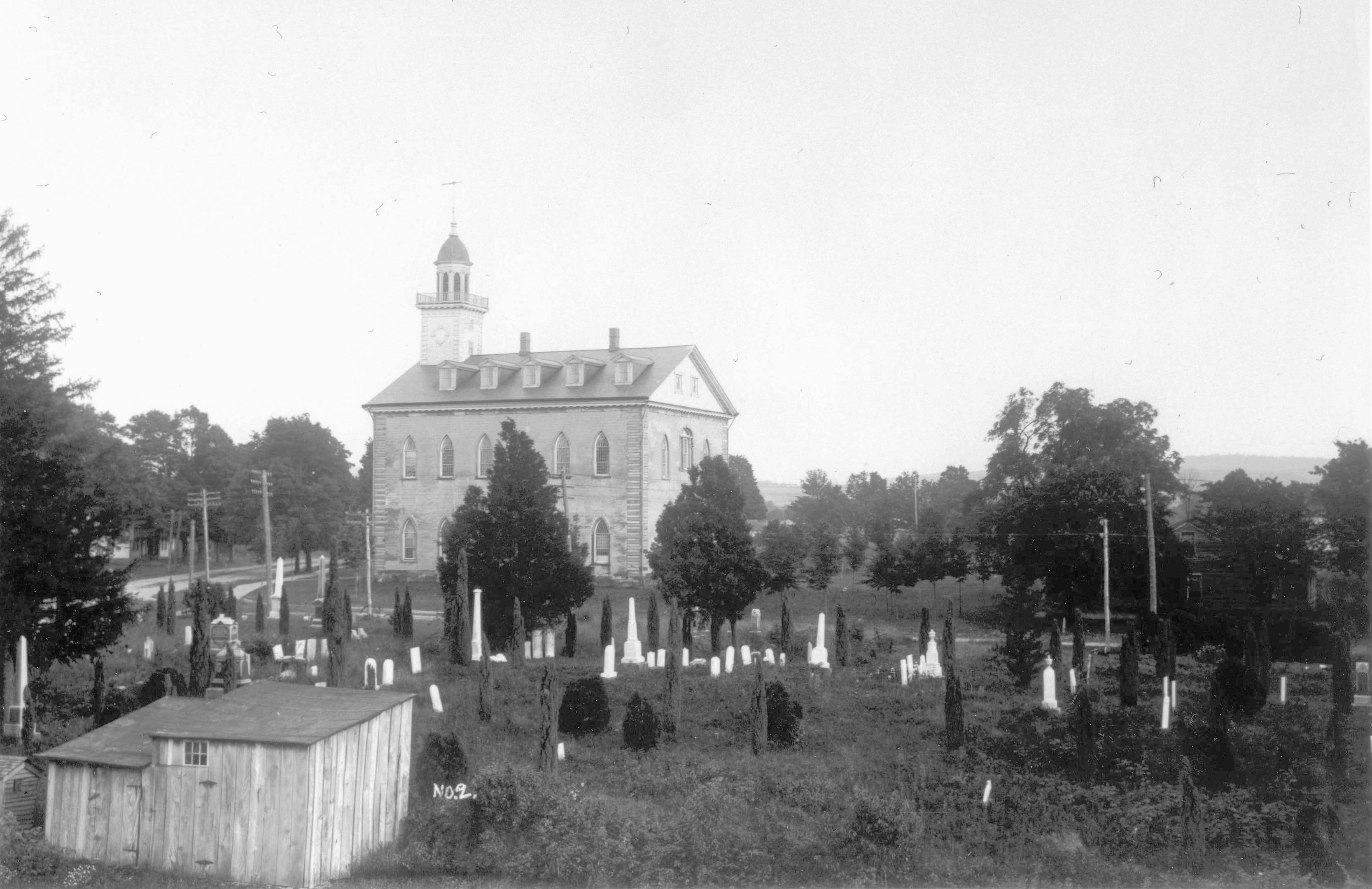 Kirtland Temple and Cemetery, Kirtland, Ohio, 7 August 1907.
George Edward Anderson Collection. Several early Latter-day Saints
are buried in this cemetery. Courtesy of Church Archives,
The Church of Jesus Christ of Latter-day Saints, Salt Lake City, Utah.
Appendix: Addresses
Kip Sperry
Allen County Public Library
P.O. Box 2270
Fort Wayne, IN 46801-2270
www.acpl.lib.in.us
American Antiquarian Society
185 Salisbury Street Worcester,
MA 01609-1634
www.americanantiquarian.org
Brigham Young University
Harold B. Lee Library
Provo, UT 84602
www.lib.byu.edu
http://uvrfhc.lib.byu.edu
Case Western Reserve University
Kelvin Smith Library
11055 Euclid Avenue
Cleveland, OH 44106-7151
www.cwru.edu
Chardon Public Library
Geauga County Public Library
110 East Park Street
Chardon, OH 44024
www.geauga.lib.oh.us
Chicago Historical Society
Clark Street at North Avenue
Chicago, IL 60614-6071
www.chicagohs.org
Church Archives
The Church of Jesus Christ of Latter-day Saints
50 East North Temple Street
Salt Lake City, UT 84150-3420
www.lds.org/churchhistory/archives
Church History Library
The Church of Jesus Christ of Latter-day Saints
50 East North Temple Street
Salt Lake City, UT 84150-3420
www.lds.org/churchhistory/library
Cleveland Ohio Family History Center
25000 Westwood Road (location address)
Westlake, Cuyahoga County, OH
Cleveland Public Library
325 Superior Avenue NE
Cleveland, OH 44114-1271
www.cpl.org
Columbus Metropolitan Library
96 South Grant Avenue
Columbus, OH 43215-4781
www.cml.lib.oh.us
Community of Christ Library-Archives
1001 West Walnut (mailing address)
Independence, MO 64050-3562
www.cofchrist.org
Community of Christ Library-Archives
201 South River (location address)
Independence, MO 64050-3562
www.cofchrist.org
Community of Christ (Kirtland)
9017 Chillicothe Road
Kirtland, OH 44094
Daughters of the American Revolution Library
1776 D Street NW
Washington, DC 20006-5303
www.dar.org
Fairport Harbor Historical Society and Museum
129 Second Street
Fairport Harbor, OH 44077
www.ncweb.com/org/fhlh
Fairview Park Regional Library
Cuyahoga County Public Library
21255 Lorain Road
Fairview Park, OH 44126-2120
www.cuyahogalibrary.org/branchespages/FPR.htm
www.rootsweb.com/~ohgcgg/ frvwlib.html
Family History Library
35 North West Temple Street
Salt Lake City, UT 84150-3400
www.familysearch.org
Geauga County Archives and Records Center
470 Center Street, Building 8-D
Chardon, OH 44024
www.co.geauga.oh.us/departments/archives.htm
www.geaugacountyarchives.org
Geauga County Courthouse
231 Main Street
Chardon, OH 44024-1243
www.co.geauga.oh.us/history/courthouse.htm
Geauga County Genealogical Society
Chapter of the Ohio Genealogical Society
c/o Chardon Public Library
110 East Park Street
Chardon, OH 44024-1213
www.rootsweb.com/~usgenweb/oh/geauga.htm
Geauga County Historical Society
14653 East Park Street
P.O. Box 153
Burton, OH 44021
www.geaugahistorical.org
Geneva Public Library
Ashtabula County District Library
860 Sherman Street
Geneva, OH 44004
www.acdl.info
Historic Kirtland Visitors' Center
7800 Kirtland-Chardon Road
Kirtland, OH 44094
www.lds.org/placestovisit/location/0,10634,3986-l-l,000.html
Hudson Library and Historical Society
22 Aurora Street
Hudson, OH 44236-2947
www.hudsonlibrary.org
Huntington Library
1151 Oxford Road
San Marino, CA 91108
www.huntington.org/LibraryDiv/LibraryHome.html
Isaac Morley Farm
8605 Chillicothe Road
Kirtland, OH 44060
www.lds.org/placestovisit/location/0,10634,3985-l-l-l,00.html
John Whitmer Historical Association
Heritage Plaza
1034 West Lexington Avenue
Independence, MO 64050-3559
www.jwha.info
Kirtland Family History Center
c/o Historic Kirtland Visitors' Center
7800 Kirtland-Chardon Road
Kirtland, OH 44094
Kirtland Public Library
9267 Chillicothe Road
Kirtland, OH 44094
www.kirtland.lib.oh.us
Kirtland Stake Center
The Church of Jesus Christ of Latter-day Saints
8751 Kirtland Road
Kirtland, OH 44094
Kirtland Temple Historic Center
Community of Christ
9020 Chillicothe Road
Kirtland, OH 44094
www.kirtlandtemple.org
Lake County Courthouse
47 North Park Place
Painesville, OH 44077
Lake County Genealogical Society
Chapter of the Ohio Genealogical Society
c/o Morley Library
184 Phelps Street
Painesville, OH 44077-3927
www. morleylibrary.org/genealogy_lcgs.htm
www.rootsweb.com/~ohlcgs
Lake County Historical Society
Lake County Historical Center
8610 Mentor Road
Kirtland Hills, OH 44060-7959
www.lakehistory.org
Lake Erie College
391 West Washington Street
Painesville, OH 44077
www.lec.edu
Lakeland Community College Library
7700 Clocktower Drive
Kirtland, OH 44094-5198
wvvw.lakeland.cc.oh.us
Library of Congress
101 Independence Avenue SE
Washington, DC 20540
www.loc.gov
www.loc.gov/rr/genealogy
Morley Library
184 Phelps Street
Painesville, OH 44077-3927
www.morleylibrary.org
Mormon Historic Sites Foundation
Wells Fargo Center
299 South Main, Suite 1700
Salt Lake City, UT 84111
www.mormonhistoricsitesfoundation.org
Mormon History Association
581 South 630 East
Orem, UT 84097
www.mhahome.org
National Archives and Records Administration—Great Lakes Region
7358 South Pulaski Road
Chicago, IL 60629-5898
www.archives.gov/facilities/il/chicago.html
Ohio Department of Health
Division of Vital Statistics
P.O. Box 15098
Columbus, OH 43215-0098
www.odh.state.oh.us
Ohio Genealogical Society
713 South Main Street
Mansfield, OH 44907-1644
www.ogs.org
Ohio Historical Society
Archives/Library Division
1982 Velma Avenue
Columbus, OH 43211-2497
www.ohiohistory.org
State Library of Ohio
274 East First Avenue
Columbus, OH 43201
www.winslo.state.oh.us
www.winslo.state.oh.us/services/genealogy/index,html
Western Reserve Historical Society Library
10825 East Boulevard
Cleveland, OH 44106-1788
www.wrhs.org
Westlake Family History Center
25000 Westwood Road
Westlake, OH 44145-4853
Willoughby Historical Society
30 Public Square
Willoughby, OH 44094
www.wepl.lib.oh.us/willoughby_historical_society.htrn
Willoughby-Eastlake Public Library
30 Public Square
Willoughby, OH 44094
www.wepl.lib.oh.us/willoughby.htm
Yale University
Beinecke Rare Book and Manuscript Library
P.O. Box 208240
New Haven, CT 06520-8240
www.library.yale.edu/beinecke
Yale University
Sterling Memorial Library
P.O. Box 208240
New Haven, CT 06520-8240
www.yale.edu/academics/libraries.html