Saints at War: The Gulf War, Afghanistan, and Iraq
KENNETH L. ALFORD (alford@byu.edu) IS A PROFESSOR OF CHURCH HISTORY AND DOCTRINE AT BYU.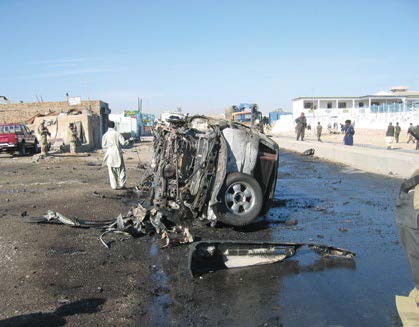 The armored vehicle that Elder William K. Jackson was riding in was attacked by a suicide bomber. This photo shows the damage the vehicle sustained. Courtesy of William K. Jackson.
The opening chapter of the Book of Mormon concludes with this insightful statement from Nephi: "But behold, I, Nephi, will show unto you that the tender mercies of the Lord are over all those whom he hath chosen, because of their faith, to make them mighty even unto the power of deliverance" (1 Nephi 1:20).
In April 2005, Elder David A. Bednar testified that "the tender mercies of the Lord are real and that they do not occur randomly or merely by coincidence." He explained that "the Lord's tender mercies are the very personal and individualized blessings, strength, protection, assurances, guidance, loving-kindnesses, consolation, support, and spiritual gifts which we receive from and because of and through the Lord Jesus Christ. . . . The simpleness, the sweetness, and the constancy of the tender mercies of the Lord will do much to fortify and protect us in the troubled times in which we do now and will yet live."[1]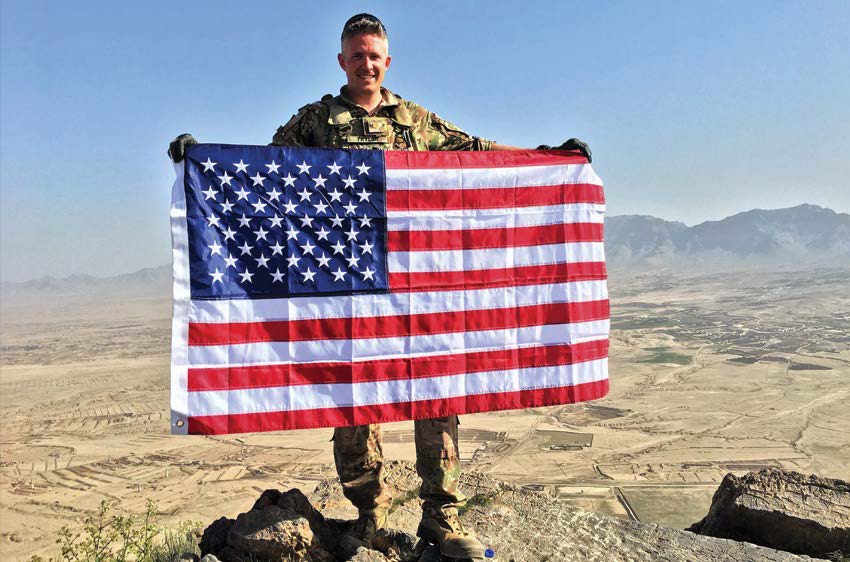 : Major Brent Taylor unfurling an American flag on a mountaintop in Afghanistan during the summer of 2018. Courtesy of Jennie A. Taylor
The latest volume in the Saints at War series shares faith-promoting first-person accounts written by Latter-day Saint men and women who served in the Gulf War, the War in Afghanistan, and the Iraq War. Many of the experiences outline tender mercies and miracles, both large and small, received by Latter-day Saints during those military conflicts. For each war, the book provides a time line, a history of the Church's presence in the country or region, and a rich set of photos submitted by participants in the war effort.
Here's a sample from the book—a journal entry from U.S. Air Force Colonel Dave Sawyer, who commanded the "Flying Tigers" during Operations Desert Shield and Desert Storm.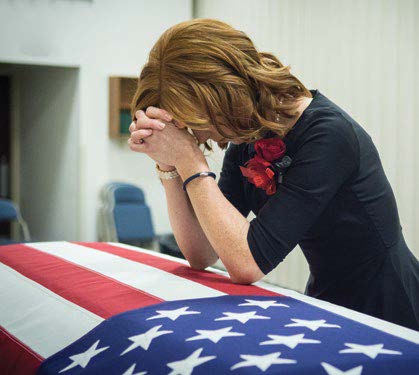 Jennie Taylor at the casket of her husband, Major Brent Taylor, who was killed in Afghanistan, in November 2018. Courtesy of Westbroek Studios
Friday, February 15, 1991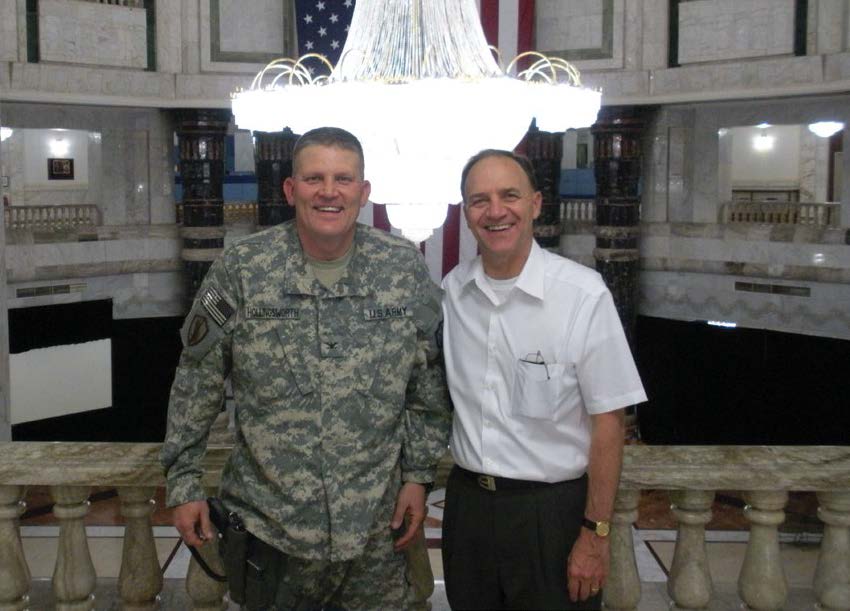 Colonel Guy M. Hollingsworth (left) with Elder Paul B. Pieper, General Authority Seventy, at the Al Faw Palace in Baghdad in November 2009 when the Baghdad Iraq Military District of the Church was organized. Courtesy of Guy M. Hollingsworth.
I flew early this morning, going further north than I had ever been before. . . . Unfortunately, during [a] climbing turn, I took a very bad hit from a surface-to-air missile. . . . I immediately checked my engines first. It panicked me a little that it was becoming quieter, but after I assured myself that the RPM, temperature, oil pressure, and hydraulic pressures were all good, I figured it was only getting quieter because I was climbing and slowing down. I was about forty-eight miles from friendly territory, so it took us about twelve minutes to get there—a long flight. After we crossed into Saudi Arabia, I had [my wingman] fly in close and check me out. Both rudders were heavily peppered with holes, and the right rudder middle hinge was broken with the rudder bowed out. The right elevator was 90 percent blown away. . . . After [landing,] I climbed out of the airplane and got my first look at it. I was amazed at how much damage there was! The tail end was also shredded and hanging down by a thread—about the last foot or two. There are probably about two hundred holes in the airplane—also some in the engine. The miraculous thing is that there was not one hydraulic line or control cable damaged, much less severed! God was really watching out for me today. President Baker of the Alexandria Stake promised all of us at Eglin Air Force Base that we'd come home safely. I surely put that to the test today!
In the book's foreword, Dr. Robert C. Freeman asked, "What is the value to be derived from a volume like this?" In answer to the question, he wrote: "Speaking to students at Brigham Young University in March 2003, on the eve of the war in Iraq, former Church President Gordon B. Hinckley signaled at least one important answer. On that occasion he said, 'May those of us who are spared of such [military] sacrifice never be proud or arrogant, but rather humbly grateful for those who lay their lives on the line in time of war.'[2] In truth, just learning the stories of our veterans is a powerful way to evidence our gratitude."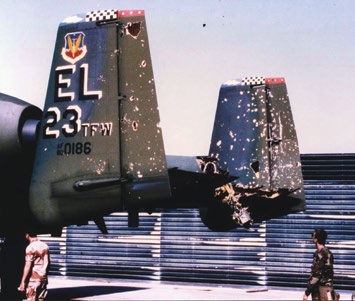 Damaged tail section of Dave Sawyer's A-10 aircraft after being struck by an Iraqi rocket. Courtesy of Jeanne Sawyer.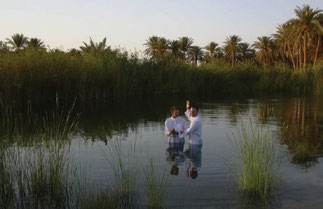 A Latter-day Saint service member of the 3rd Armored Cavalry Regiment baptizes Sergeant Kevin Wood in an oasis in Iraq's Al Anbar province. Courtesy of BYU Saints at War Project.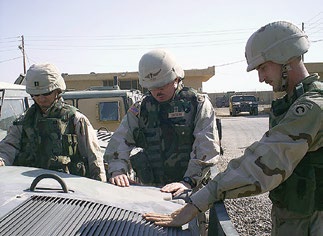 Chaplain Christopher Degn is shown praying over a Humvee he was asked to bless before it "left the wire." Courtesy of Christopher Degn.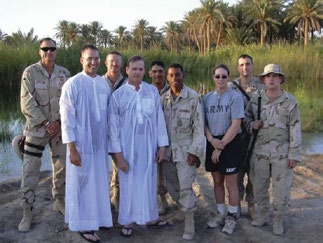 The 3rd Armored Cavalry Regiment's Latter-day Saint service member's group is shown after performing a baptism for Sergeant Kevin Wood (center) in an oasis in western Iraq's Al Anbar province. Staff Sergeant Tony Bertolino (far left) was later killed by sniper fire during a convoy traveling toward the Syrian border. Courtesy of BYU Saints at War Project
Do You Know?
What are America's longest and shortest wars?
In which country was an Area Seventy (and future General Authority Seventy) almost killed in a suicide car-bombing?
In which country did a retired four-star general make it possible for a General Authority Seventy to organize a district of the Church in an active war zone?
ANSWERS: 1. Longest: Afghanistan (2001–present); shortest: Gulf War (100 hours). 2. Afghanistan (the future General Authority was Elder William K. Jackson). 3. Iraq (Elder/General Bruce A. Carlson provided assistance so Elder Paul B. Pieper could enter Iraq and organize a military district there). These stories and many others are available in Saints at War: The Gulf War, Afghanistan, and Iraq.
Notes