Teaching Legacy: Truman G. Madsen
Building Bridges of Faith and Knowledge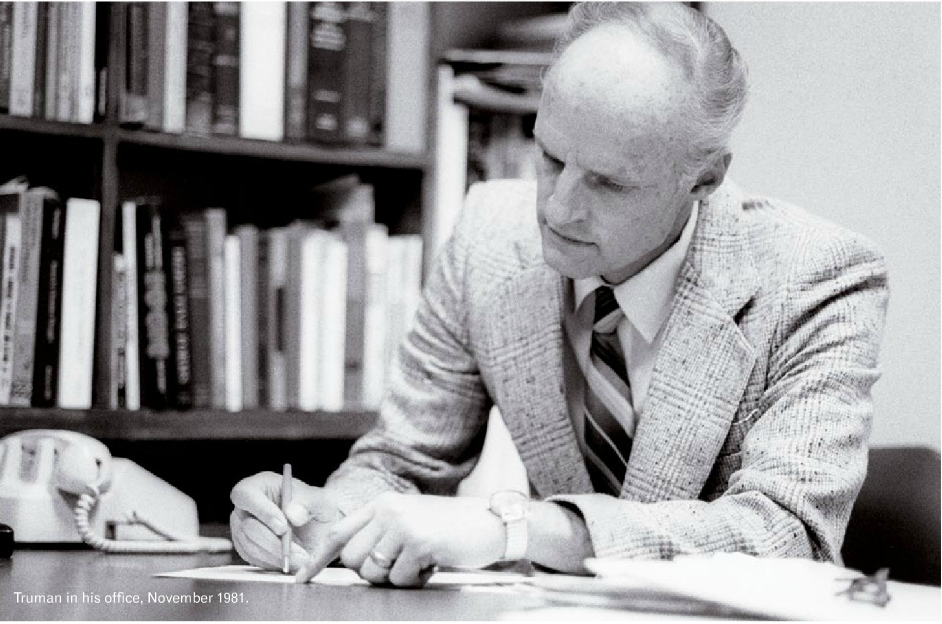 While ordaining Truman G. Madsen a campus bishop in 1960, Elder Harold B. Lee said, "The future of the Church depends on those who are both faithful and learned."[1] Truman had aspired to become such a man during the seven previous years of his graduate studies, which culminated at Harvard. This blessed moment at age thirty-four with an Apostle's hands on his head confirmed a simple lifetime pattern. Truman's philosophy of learning and teaching was uncomplicated: be both faithful and learned, and learned and faithful.
His Philosophy of Learning and Teaching
Like one of his mentors, Truman loved simple faith, "if simple meant uncluttered and strong. But he was troubled that the phrase is sometimes used as a synonym for 'simpering acquiescence.' And he could find nothing in the scriptures, ancient or modern, to excuse anyone from brain sweat and from the arduous lifetime burden of seeking 'revelation upon revelation, knowledge upon knowledge'"[2] Both study and faith require a lifetime of hard work.
"The things of God," the Prophet Joseph Smith taught, "are of deep import, and time and experience and careful and ponderous and solemn thoughts can only find them out. Thy mind, O Man, if thou wilt lead a soul unto salvation, must stretch as high as the utmost Heavens, and search into and contemplate the lowest considerations of the darkest abyss."[3]
We must have faith in our study and study our faith. Only when "inseparably connected" (D&C 93:33) can the glory of the mind and body and the transcendence of the spirit receive a fullness of joy. There truly is no other way.
Truman often joked about our perceptions: "I am firm, you are stubborn, and he is a pigheaded fool." What we perceive depends on where we stand (see D&C 130:4–10). To truly understand where we stand, we must understand where others stand.
Establishment of Separate Philosophy Department
"Contrast," Truman wrote, "presented descriptively and without acrimony, is a good teacher."[4] Lehi taught that there must be "opposition in all things" (2 Nephi 2:11). "I early made it a rule, when teaching," Truman said, "to imagine the person or persons I was quoting sitting in the corner of the class. They would check every sentence, glare at even the slightest distortion, and approve and applaud only if I presented their case as they would. Only then would critical analysis or evaluation begin."[5]
When Truman arrived at BYU with PhD training in philosophy, he saw the need for a philosophy department separate from the Division of Religion. In notes he made in a proposal for a separate philosophy department, Truman suggested that we need to be able to "put the worst and most formidable case against religion . . . in a way to satisfy its most ardent champion and yet with quiet sincerity and dignity manifest the spirit, and power and foundations of the Restoration."[6] Truman happily embraced Augustine's triad, "In essentials, let there be unity. In non-essentials, let there be liberty. In all things, let there be charity."[7]
And so an independent Department of Theology and Philosophy was born. President Ernest L. Wilkinson appointed Truman as its first chairman, effective fall 1958. This Harvard-trained philosopher could be trusted to teach the philosophies of men with such clarity that the philosophers themselves would applaud his presentation. Yet, he was able, as he hoped, "with quiet sincerity and dignity [to] manifest the spirit, and power and foundations of the Restoration." "I envision," Truman wrote, that the Y department's "ultimate reputation" will be that it is "competent and productive but also profoundly aware and committed to the outlook and principles of this dispensation."[8]
This was his quest during the thirty-seven years he studied, thought, and taught at Brigham Young University and other universities around the world, including Haifa University in Israel, Graduate Theological Union in California, and Northeastern University in Boston. While director of the BYU Jerusalem Center for Near Eastern Studies, he organized a symposium on human nature. He demonstrated his penchant for honestly letting others describe their own faith while he listened respectfully, inviting the presenters to do the same. Then, as he concluded with faith and sincerity, he spoke of the Restoration, the facts of which he had mastered as few before him.
Until we all come to a "unity of the faith." Modern scholars, Truman noted, typically teach that "scientific methods lead to truth in one realm, that the religious, mainly mystical, approach, leads to truth in another, and that these are utterly different realms. No interplay, no compatibility, no reconciliation." Indeed, he concluded, "much of the history of thought, and especially religious thought, can be rewritten as an attempt, often ingenious, to separate what cannot be separated and unite what cannot be united."[9] In contrast, in his studies and faith, Truman sought and found a unity. So is such a unity desirable? Truman said he was once asked, "Were you born a Mormon, were you a convert, or were you reconverted?" His answer: "Yes."[10] As a Latter-day Saint, Truman recognized the Church as both exclusive ("the only true and living church upon the face of the whole earth" (D&C 1:30)) and inclusive ("the truth of God will go forth boldly, nobly, and independent, till it has penetrated every continent, visited every clime, swept every country, and sounded in every ear").[11]
First Occupant, Richard L. Evans Chair
An excerpt from David Grover's article called "Building Bridges" clearly describes Truman's role as first occupant of the Richard L. Evans Chair:
Dr. Madsen kept a rigorous schedule, filled multiple roles, and was an emissary for the Church wherever he went. For over two decades, he set the tone for the chair's future use as he promoted building bridges of understanding. . . .
Dr. Madsen "sponsored programs in colleges and civic organizations, underwriting symposia, interfaith conferences, seminars, and workshops." He brought world-renowned scholars to the BYU campus for lectures and discussions, and he even served as a "guest professor at the Graduate Theological Union in Berkeley, California; at Northeastern University in Boston, Massachusetts; and at Haifa University in Israel." His work took him to almost all fifty states and to the European continent, and he made forty-five trips to Jerusalem for travel-study programs. . . .
In the published results of one symposium, Dr. Madsen praised the participants for their "goodwill," for being "friendly to each other—and to the idea," and for having "a willingness to do the hard work of studying . . . the Mormon ethos." He identified two results of the meeting, things in perfect keeping with the mission of the chair: "first, a deepening of self-understanding within the Mormon community; second, a wider and deeper scholarly interest in Mormon studies." . . .
But beyond all the conferences and publications, the work of the Evans Chair was still the work of building friendships. It was a work at which Truman Madsen excelled.[12]
Truman initiated gatherings of scholars to talk and then published their ideas. Did they come to any conclusive unity? That would be too much to ask, but they did find common ground they hadn't known existed and respect for ideas shared among peers that often seemed reasonable in the comfortable context he provided. Truman sponsored several symposia on comparative religion and published the resulting papers in volumes including Reflections on Mormonism: Judaeo-Christian Beliefs (1978); The Temple in Antiquity: Ancient Records and Modern Perspectives (1984); Chosenness and Covenant in Judaism and Mormonism (2001); On Human Nature (2004), the papers presented at the Jerusalem Center Symposium in 1993.
Director of the Jerusalem Center
From 1991 through 1993, Truman was director of the BYU Jerusalem Center for Near Eastern Studies after having lived in Jerusalem since 1987. There he directed research scholars and graduate and undergraduate semester abroad students, and scheduled forums, devotionals, and symposia. Again, he invited his friends from across the world to "drop by" to lecture and broaden the horizon of learning for the students living at the center.
The curriculum lent itself to a balanced approach. Describing the ever-changing efforts at a peace process in the Middle East was its own challenge. It required a careful balancing of food for thought. Diplomats from both sides were frequent forum speakers. One evening's forum might feature the Christian/Arab mayor of Bethlehem. The next, an Orthodox Jewish rabbi's family, demonstrating their Friday evening traditional dinner and worship. Each forum featured questions and answers and usually sparked lengthy discussions in later classes. Learning the culture was a high priority. Learning to love all the center's neighbors was essential. Christians were a minority in the city and Mormons were not even considered to be Christians.
Truman was intent on following President Howard W. Hunter's admonition to be certain that the center serve the entire community. When Robert Cundick retired as Tabernacle organist, Truman asked permission to invite him to bring his wife, Cholly, and volunteer to give free concerts on the center's magnificent pipe organ. Cundick was an immediate success with the musical community in Jerusalem. When he and Cholly left, they were surprised by an auditorium of friends—not Mormons—who had planted a forest of fifty trees in Cundick's honor. Early on he set up free concerts, called "Music for a Sunday Night," in the elegant room overlooking Jerusalem, which seated over three hundred people. The concert often featured brilliant Russian musicians who had immigrated to Israel. The list was endless and the amazing school of music at the Hebrew University also supplied talented performers. Soon, the concerts became the place to go and meet friends. President Hunter's dream had come true.
Later, Truman arranged for a tour of the Mormon Tabernacle Choir, who sang at the center and in several other prime concert halls in Israel. They were greeted with rave reviews. A special concert was arranged for Palestinians at the center—one never to be forgotten. They wept listening to the sublime music in the room that is three sides of towering windows from floor to ceiling overlooking Jerusalem.
People of the city and the country came to the regular tours at the center and commented in the guest books of how they felt "at home" there. Teddy Kollek, the famous mayor of Jerusalem, came often, whenever invited, and loved to say that we had the best view of the Old City from our windows and gardens. Jewish and Palestinian wedding parties often asked to take their wedding photos on the grounds. Truman created an atmosphere that helped the center become a landmark which tourist guides would point out and bring their busloads to tour. People loved coming to concerts or just to visit and enjoy the view and the unique feelings felt in the dedicated building.
Professor Emeritus/Patriarch
In 1994, Truman became a professor emeritus, leaving the Richard L. Evans Chair after more than twenty years of service. Robert L. Millet, then dean of Religious Education, reported that "Truman established a wonderful cadre of friends for the church."[13]
On October 24, 2004, Truman Grant Madsen was ordained a patriarch. As the call was issued, he wept instantly, then humbly accepted. He felt that this call was the sweetest he could ever receive, the one reserved for those with absolute trust in revelation from him who had a blessing waiting for each of his children. He fasted and prayed to be a fit messenger of such individual personal revelations. He memorized the names of the tribes, then was surprised to learn that the name came as predictably as the words that followed. The preparation was never easy, yet time after time he consistently felt Heavenly Father's love for each one on whom he reverently laid his hands. It was never commonplace. It was always an honor. It was, in many ways, the pinnacle of his teaching and learning from the Spirit.
The Temple: The House of the Lord
"The Temple is the place," Truman said, "where we are to be 'instructed more perfectly' in order that we may instruct more perfectly 'in theory, in principle, in doctrine' (D&C 88:78)."[14] With this statement, we come full circle, for it speaks to Truman's philosophy of learning and teaching.
Truman had a lifelong love affair with the temple. His wife, Ann, reports that he carefully tutored her as she prepared to enter that sacred house before their marriage. He gave her a copy of the Doctrine and Covenants, with every scripture that referenced temple worship carefully underlined. He also gave her a marked copy of "Temple Worship" by Elder John A. Widtsoe.[15] He often referred to the temple as a "bridge between heaven and earth," and he wanted to be certain that his bride-to-be would find it such an important link.
He was careful to teach that in the temple, we encounter the highest, most sublime truths God gives his covenant children. There, the learning curve steepens as we are taught godliness, holiness, and perfect love, all centered in Christ.
Truman taught: "The temple is a house of learning. And it is intended that therein we not simply learn of or about Christ, but that we come to know Him"[16] so that we can become like him, eternally transformed. "Everyone that hath this hope in him purifieth himself, even as he is pure" (1 John 3:2). Truman saw that necessary sanctifying happening gradually as we worship in the temple. There we truly become the Lord's covenant children, completing the taking of his name upon us that we promise weekly in the sacrament.
It seems exactly right to conclude Truman's philosophy of learning and teaching on the bridge he so recently crossed.
Notes
[1] Truman G. Madsen to Professor Clayton M. White, 2002, BYU Department of Zoology, journal 2001–02, box 11; President Gordon B. Hinckley said something similar about BYU: "We shall . . . prove to the world that excellent secular learning can be gained in an environment of religious faith." Gordon B. Hinckley, in Conference Report, October 1999, 69.
[2] Truman G. Madsen, Defender of the Faith: The B. H. Roberts Story (Salt Lake City: Bookcraft, 1980), 387.
[3] Dean C. Jessee and John W. Welch, "Revelations in Context: Joseph Smith's Letter from Liberty Jail, March 20, 1839," BYU Studies 39, no. 3 (2000): 137, spelling and punctuation standardized. Part of this passage is quoted in "Aims of a BYU Education," Mission & Aims, http://aims.byu.edu/aims. 

[4] Truman G. Madsen, proposal for a professional leave fall and winter 1987–88 to President Jeffrey R. Holland, journal 1987–88, box 7, Wheatley Institute, BYU.
[5] Donald Perry, Daniel Peterson, and Stephen Ricks, eds., "Truman Madsen, On His Education," Revelation, Reason, and Faith: Essays in Honor of Truman G. Madsen (Provo, UT: Neal A. Maxwell Institute for Religious Scholarship, 2002), xiv.
[6] Truman G. Madsen, typewritten talking points for I. Barrett (1958?), Harvard Jo-Shell, box 2 (scanned), Wheatley Institute.
[7] St. Augustine, De Republica Ecclesiastica Libri X (1619), book 4, chapter 8, quoted in "In necessariis unitas, in non necessariis libertas, in utrisque caritas," Liber Locorum Communium, March 2, 2010, http://liberlocorumcommunium.blogspot.com/2010/03/in-necessariis-unitas-in-non.html.
[8] Truman G. Madsen, talking points for I. Barrett.
[9] Truman G. Madsen, "Man against Darkness," Expressions of Faith (Provo, UT: Neal A. Maxwell Institute for Religious Scholarship, 1996), 32.
[10] Madsen, "Man against Darkness,"34. In a similar way, the message of the "God of Abraham, the God of Isaac, and the God of Jacob" is that God must be experienced anew by each succeeding generation, for "God is not the God of the dead, but of the living" (Matthew 22:32).
[11] Joseph Smith Jr., "The Wentworth Letter," Times and Seasons, March 1, 1842.
[12] Stephen David Grover, "Building Bridges: The Richard L. Evans Chair of Religious Understanding," in Religious Educator 9, no. 2 (2008): 50.
[13] Quoted in Grover, "Building Bridges," 48–50.
[14] Truman Madsen, "Purpose of the Temple," in The Temple: Where Heaven Meets Earth (Salt Lake City: Deseret Book, 2008), 94.
[15] See John A. Widtsoe, "Temple Worship," Utah Genealogical and Historical Quarterly, April 1921, 53–54.
[16] Madsen, "House of Glory," in The Temple, 6.