Student Section: The Religious Education Student Symposium
Mark D. Ogletree (mark_ogletree@byu.edu) was an associate professor of Church history at BYU when this was published.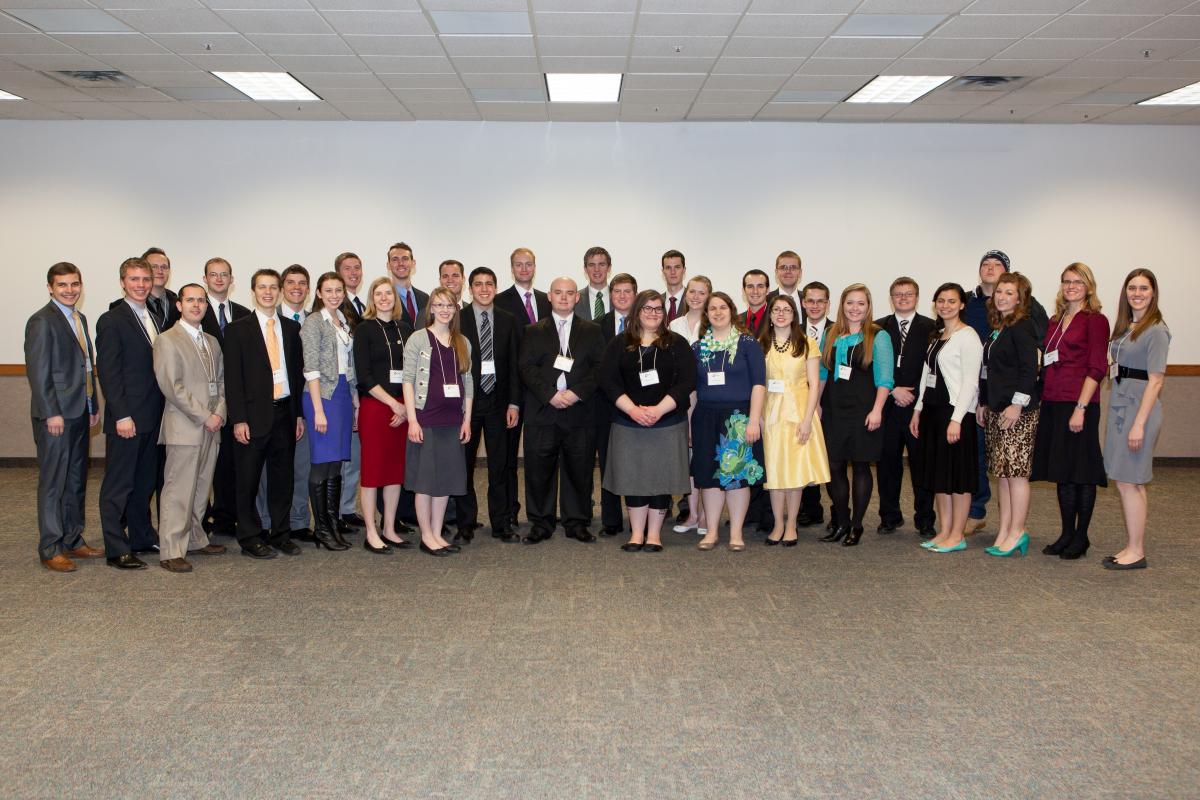 In spring 1998, Richard E. Bennett sat in a new faculty seminar addressed by Elder Henry B. Eyring, Church Commissioner of Education, who charged the faculty to help students publish before they graduate. At the time, few Religious Education faculty members required students to write papers, much less publish them.
Several years earlier, Dr. Bennett had orchestrated a history-focused symposium for college students at the University of Manitoba. He was pleased the way they presented their research. He thus decided to create a symposium at BYU where students could research, write, present, and publish their findings. Bennett felt it was important that students make their own discoveries regarding Church history and doctrine, examine their convictions and understandings, and ultimately apply their discoveries to strengthen their own testimonies and knowledge of the gospel. He wanted to create a venue where students could explore the doctrines, principles, and Church history and thus gain insight that they could share with their peers. The students' findings would be presented in a conference and ultimately published in a journal.
Thus the student symposium was born. In the fall of 1998, a committee was organized and they went to work on developing the event. A call for papers was circulated that fall, and by the end of the semester, ninety-nine papers were submitted by the students for consideration. After the committee read, reread, and discussed the quality of the papers with each other, forty-eight students were selected to present their papers. This first symposium was held in the Conference Center (Harman Building) April 1–2, 1999.
Today, the symposium has been streamlined to a one-day event. Presently, one highlight is the banquet, which takes place after the presentations are complete. Reporters usually cover the conference. Also, representatives from BYU Studies, Mormon Historical Studies, the Mormon History Association, the Maxwell Institute, the Religious Educator, and others have attended the conference, spoken at the banquet, and contributed to prizes.
How has the symposium impacted the students who have participated? Braden Hancock, a recent BYU graduate, presented two years in a row. He said, "I enjoyed participating in the symposium because it gave me an opportunity to hyperfocus on a topic that I have been really interested in, but hadn't had the time to study. I relished the opportunity to spend weeks on a subject and delve deeply into a gospel topic or doctrine so that I could gain greater understanding."
This year, Tim Duran wrote a paper based on his experiences living as a nonmember at BYU and how his religion had been an anchor to him. Tim wrote about his experience: "I remember sitting in on some of the presentations before mine, and was completely blown away. There are definitely some extremely intelligent people at this school. . . . When I was done, I just wanted to leave the Wilkinson Center and head home as quickly as I could. On my way out, though, I was stopped by a cute little lady and her family. It was obvious that they were there for a family member's presentation. This lady and her family told me how inspiring my presentation was to them, and they thanked me for sharing it. Then, as the day progressed, more and more people who happened attend my presentation kept telling me the same things. I realized that maybe I had actually done a decent job." Tim recently related to me that the student symposium has inspired him to learn more about the LDS Church. He spends several hours each week studying Mormon doctrine and theology and meeting with the missionaries. Moreover, he is already working on his paper for next year.
Over the past fifteen years, about 1,200 students have submitted papers. More than 750 students have presented their papers at the event, and 223 students have had papers published in the symposium journal. Many participants have gone on to attend graduate school and establish careers in academics. Others have presented scholarly papers at professional conferences. Presently, five professors in the BYU Religious Education once presented papers as BYU undergraduates: Rachel Cope, Matthew Grey, Nick Frederick, J. B. Haws, and Charles Swift. The student symposium has become a fertile ground for cultivating future BYU Religious Education faculty.
Where does the symposium go from here? The charge that Elder Eyring gave to new faculty years ago has been accepted and heeded. However, there is always more to do. Dr. Bennett believes there are so many untapped resources that our students need to access, evaluate, and write about. We hope to widen the tent by increasing endowment funds and by opening doors so that more students can present and publish.