Teaching Legacy: Robert J. Matthews
A Teacher Come from God
Robert L. Millet (robert_millet@byu.edu) was publications director of the Religious Studies Center when this was published. Addre​ss given at the funeral of Robert J. Matthews in Lindon, Utah , on September 4, 2009.
It is hard to explain my feelings since I first learned of the passing of our friend and loved one, Robert J. Matthews, on Sunday, August 30, 2009. While I know enough to know that his reception on the other side of the veil was glorious, his passing leaves a void in my world on this side of the veil that only the love and tender mercy of Jesus Christ can fill in the days and weeks and months ahead.
Brother Matthews has been my friend, my mentor, my adviser, and my consultant for more than thirty years. My own father passed away in March 1988, and I have turned to Robert J. on many occasions for counsel, priesthood blessings, and encouragement, especially during the decade I served as dean of Religious Education at Brigham Young University. He was kind and patient with me. He was wise, and his counsel was tempered but direct. He had a wonderful institutional memory of the Church Educational System that was of great service to me in ascertaining where we had been as a key factor in determining where we must go.
When Nicodemus came to Jesus by night, he addressed the Master with these words: "Rabbi, we know that thou art a teacher come from God: for no man can do these miracles that thou doest, except God be with him" (John 3:2). I would like to borrow Nicodemus's words and apply them to Robert Matthews; in my view, and I'm sure in the estimation of many, Robert J. Matthews was "a teacher come from God."
First, inspired and inspiring teachers love those they instruct and lead, and such teachers are kind to students. Bob was a consummate Christian gentleman. With about forty other seminary and institute teachers, I had the privilege in the summer and fall of 1975 to sit at Brother Matthews's feet in three graduate courses: the ministry of the Lord Jesus Christ, the labors and writings of the Apostle Paul, and the teachings of James, Peter, Jude, and John. In the language of Oliver Cowdery, "these were days never to be forgotten" (Joseph Smith—History 1:71 note). Sadly, one of the things I remember most about the summer classes was that the students talked too much and did not leave Brother Matthews sufficient time to teach; we had come to learn from him and I did not much care what the other students had to say. Patiently and lovingly, however, he would attend to comment after comment and then lead us back to the scriptural text. I still marvel at his unusual courtesy.
Second, teachers who come from God never cause what Joseph McConkie calls a "spiritual eclipse." That is, they never point students to themselves—to their knowledge, their charisma, their personality—but rather to the Savior himself. Bob was a phenomenal teacher, one who knew the doctrines of salvation better than any human being I have ever encountered. He knew the holy scriptures, and he knew the words of the prophets. His insights were treasured, and his word was trusted. His colleagues loved him a great deal, but we trusted him even more. And yet Brother Matthews never generated a following, never created a flock of minidisciples, never encouraged his students to look anywhere except to the scriptures, to their Church leaders, to the Lord. Many times I left his classes on fire with the spirit of our discussion. But never once did I say, "Wow! Brother Matthews is amazing." What I did say, many times, was, "I want to read and study more" or "I feel the need to pray." Latter-day Saints far and wide loved hearing from this teacher come from God, but the reason they were drawn to Christ and his gospel rather than to their teacher was because of a simple yet significant humility, a keen awareness that at best he walked in the shadow of the Almighty.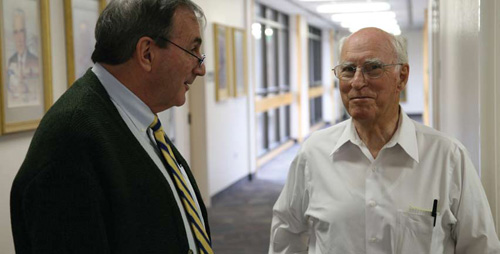 Jesus bids us to become a friend to all. No one did this better and more naturally than Robert J. Matthews. For Bob there was no pecking order. It was as common to see him carrying on a conversation with one of the student custodians in the old Joseph Smith Building as it was to see him hosting a visiting General Authority. People were people, and they had his full attention, no matter their standing in society or in the Church. Those kinds of men and women are hard to come by, but their influence is lasting and lifting.
Inspired gospel teachers bear testimony. I honestly don't remember too many times when I heard Brother Matthews stop what he was doing, change gears, and then say, "I want to bear my testimony." Instead, on numerous occasions I heard comments like these about a doctrine or a scriptural verse: "I really like that verse" or "My, that's an impressive way of putting it" or "It doesn't get any better than that." His statements of conviction were specific and direct, his affirmations simple and uncluttered by jargon or sophistry. Robert Matthews was void of arrogance, although he read widely and had a cultivated and refined intellect. More important, he had a settled conviction of the truth within his soul. He had entered into the rest of God here, all as a harbinger of what awaited him hereafter (see Moroni 7:3).
The best of gospel instructors teach as much out of class as they do within—by how they live, how they speak, what they do and don't do, and how they treat others. It has been my privilege, and I count it such, not only to work under his leadership for eight years while he served as our dean, but also to visit the Salt Lake Cemetery often with him and with Andy Skinner; to travel with him to Church history sites with Keith Perkins and Larry Dahl and to read the scriptures and statements of the Prophet Joseph Smith there; to kneel with him, more than once, in the Sacred Grove, and to petition the Lord to bring to pass his purposes at BYU and throughout the kingdom of God on earth. I will never be able to revisit those places without a lump in my throat, without remembering that God's marvelous grace was extended to me by placing me in the presence of Christlike teachers like my friend Robert J.
Many times Bob said, "Let's not allow ourselves to labor in secondary causes." That counsel helped many of us to avoid involvement that would have been nice but not necessary, enterprises that were good but not the better or the best way to spend time and expend resources and energy. It was for him, as it was for Brigham Young and John Taylor, "the kingdom of God or nothing!"
Another lesson he demonstrated and also articulated was this: always be loyal to the Prophet Joseph Smith. On several occasions I heard Latter-day Saints read a Bible passage from the King James Version, acknowledge that the Prophet Joseph had altered the passage in his inspired translation, and say something like this: "With apologies to Brother Matthews, I have chosen to stay with the King James language." Brother Matthews promptly replied: "You need not apologize to me, but you may want to check with Joseph Smith."
In the fall of 1969, I was a very frightened and overwhelmed new transfer student at BYU. I was homesick for Louisiana, for Cajun cooking, and for a winning LSU football team. I left my dorm one evening and went for a walk across the campus. For some reason, I wandered into the old Joseph Smith Building and heard someone speaking in the auditorium. It was a man slight of stature with a balding head on top and dark hair on the sides. I sat in the rear of the auditorium and listened as he spoke of the Joseph Smith Translation of the Bible, what we then called the Inspired Version, something I knew very little about at the time. As I sat there listening, the man's words went into my heart and burned like fire, for reasons that I could not then understand. A strange sense of familiarity surrounded his remarks, and I felt deeply that the topic he was discussing and even the man himself would become important parts of my life in the future. I first met Robert J. formally in 1973 at an Education Days program in Idaho Falls, took classes from him in 1975, and began a friendship that would be more constant when I came to BYU in 1983. The rest is history. I have since spent hundreds of hours studying—and teaching thousands of students about— Joseph Smith's Translation of the Bible. Bob Matthews has impacted me in ways I cannot enumerate, in ways that I cannot express. He has been my "teacher come from God."
I bear my witness that God our Heavenly Father lives. Jesus Christ is the Savior and Redeemer of all humanity, our only hope for a remission of sins, for happiness here and eternal reward hereafter, for victory over the grave and the glorified immortality of the soul. Joseph Smith is the prophet of the Restoration, the one called and foreordained to restore the knowledge of God, the great plan of happiness, and vital doctrine concerning our premortal, mortal, and postmortal existences. Keys and authorities and priesthoods have been delivered by heavenly messengers. Life and love and learning are forever; in reality there is no death and there are no dead—there is only life. The veil between this world and the next is startlingly thin. The work of the Lord goes forward on both sides of that veil, and it probably doesn't matter a great deal which side we are working on.
Our beloved friend and loved one has entered into paradise, where he will "rest from all [his] troubles and from all care, and sorrow" (Alma 40:12). There he will learn, grow, develop, and be refined and purified, all in preparation for a glorious celestial resurrection. And while he is there in the spirit world, he will continue to pray and prompt and guide those he loves and to lend his support and his voice to the spread of the everlasting gospel. Our loss is paradise's gain.
Joyfully, "that same sociality which exists among us here will exist among us" in the world to come, "only it will be coupled with eternal glory, which glory we do not now enjoy" (D&C 130:2). We have been assured by latterday prophets that we will come forth in the resurrection unto unspeakable glory, but we will always and forever retain our identity.1 The sacred work to which Robert J. Matthews consecrated his life is true, and because it is true it will triumph; its implications and reach are eternal. I join my witness with his and so testify of these things.
Notes
1. Joseph F. Smith, Gospel Doctrine, 5th ed. (Salt Lake City: Deseret Book, 1939), 22, 25.
---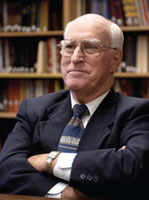 Scholarly Writings by Robert J. Matthews
The writings of Robert J. Matthews represent forty-five years of scholarly work. His articles have been published in a variety of venues including the Improvement Era, Relief Society Magazine, the Instructor, the Ensign, the New Era, Church News, and the proceedings of the annual Sidney B. Sperry Symposiums. Here is a list of his published and unpublished writings.
Articles and book chapters: 185
Books (as author): 7
Books (as editor): 2
Booklets and pamphlets: 6
Book reviews: 4
Study aids: 7
Thesis and dissertation: 2 (one each)
Unpublished papers: 12