Daniel H. Ludlow: Gospel Scholar
Victor L. Ludlow (victor_ludlow@byu.edu) was a professor of ancient scripture at BYU when this was published.
Jared W. Ludlow (jared_ludlow@byu.edu) was an associate professor of ancient scripture at BYU when this was published.
Daniel H. Ludlow began life amid tragedy. Six weeks before his birth in 1924, his father was killed when a train hit the bus he was in. Being raised in rural Benjamin, Utah, Daniel had little in his inauspicious youth that pointed toward a career of gospel scholarship that would influence many Saints. Perhaps one of his motivations to strive for excellence came from the loss of his father and his desire to do twice as much and be twice as good to make up for all that his father missed out on because of his early death. As a youth, he was successful in raising sheep and pigs, for which he won many awards at fairs and competitions. He showed great leadership potential among classmates serving as the Spanish Fork High School student body president his senior year. While attending Utah State Agricultural College (now Utah State University), he also served as student body president his junior and senior years.
Daniel Ludlow's educational background and vocational preparation did not follow a typical path. He started his academic studies at Utah State Agricultural College in agriculture (he wanted to become an agricultural Ed teacher), but he ended up majoring in history. He graduated from Utah State with a degree in history, began some graduate work in English, and intended to become a faculty member at Utah State in the English Department. According to his own account, around this time he experienced some life-changing experiences that sent him on a new career path that led eventually to the Religion Department at BYU. When he thought about the big questions of life—where did we come from, why are we here, and where are we going—he came to realize that the only source for finding answers to those questions was through revelation from God to man. He determined that one could find those revelations in two places: the writings of ancient prophets in the scriptures and the words of modern prophets. He promptly decided to move to Provo, where he could find access to all these prophetic revelations. There he began researching what the modern prophets had said about various topics such as resurrection, baptism for the dead, and so forth. His discoveries and compilations led to the publication of his first book, Latter-day Prophets Speak, in 1948 at the age of twenty-four. He sometimes told the story of traveling to Salt Lake City in a bumpy car ride with a typewriter on his lap finishing the last pages of his manuscript before meeting with the editors at Bookcraft. The positive feedback he received from both his teaching experiences and his first publication fueled his desire to become better trained and prepared for academia.
The next step in Daniel's scholarly development was made possible by a prestigious fellowship as he went to graduate school as a Danforth Graduate Fellow. (Richard O. Cowan, Merrill J. Bateman, and Victor L. Ludlow are a few other former Danforth Fellows associated with BYU.) For two years he studied audiovisual aids and communication at Indiana University, where he received a master's degree. He also spent a year at Columbia University in New York City completing his EdD in pedagogy and education administration. He never intended to teach in these areas, but he hoped they would help him later in his teaching career. Upon completion of graduate school, he faced a difficult career choice. His heart and loyalty were leading him back to Utah State, but a strong invitation from Ernest Wilkinson, president of BYU, led him to start his teaching career at BYU in the Religion Department in 1955. In 1959, he was selected as professor of the year. He later became dean of the College of Religious Instruction. As dean, he brought about a few revolutionary changes. He wrote the first syllabus for BYU's Book of Mormon course and encouraged other faculty to teach the course. He also introduced the university's first instructional television Book of Mormon course, allowing students to view lectures by television. He would later organize the beginnings of BYU's study program in the Holy Land. For some years, he felt like he was a jack-of-all-trades but not necessarily a master of any. Years later, these seemingly divergent disciplines and backgrounds merged when he became the director of the Church Correlation Department.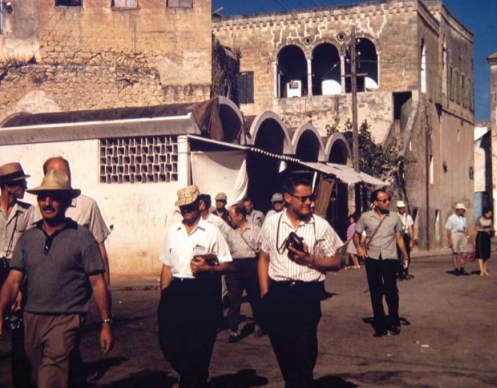 Daniel Ludlow's first trip to Israel in 1963 with a group of scholars from various U.S. universities.
One enduring legacy of Daniel Ludlow's Church service is his involvement with Church Correlation. He first heard about correlation in the Church in 1960 when he was asked to help review all the lesson materials prepared over many years by all the Church auxiliary organizations. In the 1960s, the curriculum for the different Church classes was correlated into three age-groups: adult, youth, and children. Three different curriculum committees organized and supervised the lesson materials for their respective age-group. For most of the committee members, this committee work was their Church calling during their years of service. Daniel was asked to assist the curriculum writers of the different lessons. During much of this period, he served as dean of Religious Instruction, even though he did not enjoy the administrative work. To get back into the classroom, he took a year's leave of absence in 1970 to teach at the Church College of Hawaii (now BYU–Hawaii). In April 1971, President Harold B. Lee of the First Presidency asked him to work full-time at Church headquarters so that Church manuals and lessons could be prepared in a timely, efficient manner. In the summer of 1971, he started seventeen years of Church employment as director of a newly formed division called Correlation and Curriculum Planning.
Finally, his education, skills, and experience came together as he provided a unique human resource for the Church. His English background prepared him in editorial skills, his audiovisual training helped him develop new, modern techniques for lesson and article enhancement, his curriculum training improved the teaching techniques included in the manuals, his experience teaching religion classes provided a solid foundation in scriptural resources, his administrative positions sharpened his leadership and managerial tools, and, most importantly, his service in Church curriculum development and on special assignments for various Church leaders gave him insight into doctrinal correctness and what the Brethren wanted taught as he and they developed a strong, trusting relationship. He was specially prepared for the task of reviewing and correlating all the written materials prepared for distribution among Church leaders and members.
As an extension of his educational and teaching opportunities, Daniel Ludlow became a world traveler, somewhat of a surprise after his humble, rural upbringing. Of all the places in the world, the place that probably was most significant for Daniel was the Holy Land—it truly became a holy land to him. In 1968, he took the first group of BYU students over to the Holy Land, which was the beginnings of the Jerusalem Semester Abroad program. He led two other semester abroad programs to Jerusalem and ended up traveling and directing tours to the Holy Land some fifty times. Recently he said he could be buried anywhere, but his heart would always be in Jerusalem. Another location that held a special place in his heart was Laie, Hawaii. After an initial one-year teaching opportunity there in 1970, he returned several years later with the intention of teaching there until retirement. Unfortunately for his intentions, the Brethren had other plans and after tracking him down asked him to return to Salt Lake City. At least he convinced them to let him stay the rest of the semester, after which he left his beloved Hawaiian Islands. He always commented that he had the most fun teaching at BYU–Hawaii. Daniel also traveled frequently to Central America, exploring possible relationships of that region to the Book of Mormon. He served as the mission president of Perth, Australia, in the early 1980s and grew to love the people and places there.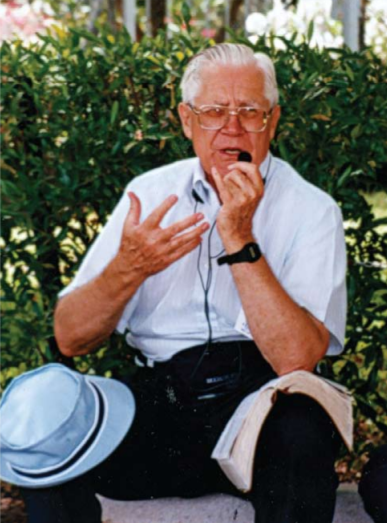 Daniel Ludlow's last trip to Israel with forty-five family members in 1996.
The capstone of Daniel Ludlow's Church service began in 1987 when he was asked to be editor in chief of Macmillan's Encyclopedia of Mormonism. Breaking new ground in Macmillan encyclopedia editorship, he invited over 750 writers to each produce only one to three articles with time deadlines and size constraints. Once started, the five-volume encyclopedia was completed in just three years, compared to nine to twenty years for comparable Macmillan encyclopedias. Up to that time, he was the only editor in chief to have completed a Macmillan encyclopedia of comparable size (over 1,200 articles) during his lifetime. Sold and distributed to major libraries and Latter-day Saint homes throughout the world, it is a valuable resource for understanding the history, doctrine, practices, and organization of the Church. In 1995, to honor his lifetime achievements, BYU presented him an honorary doctorate in Christian service.
One of the primary characteristics that clearly shines forth from the scholarship of Daniel Ludlow is his reverence for the revelations of the prophets, both ancient and modern. He purposely entitled his scriptural aids companions to scripture study (rather than commentaries) so they would be used alongside the scriptures and not viewed as substitutes. Daniel Ludlow is a great example of someone who used the talents and skills he developed in this life for the building up of the kingdom. May his careful scholarship continue to teach others and help them draw closer to our Heavenly Father.