Mark L. Staker, "Raising Money in Righteousness: Oliver Cowdery as Banker," in Days Never to Be Forgotten: Oliver Cowdery, ed. Alexander L. Baugh (Provo, UT: Religious Studies Center, Brigham Young University, 2009), 143–253.
Mark L. Staker is curator at the Church History Museum in Salt Lake City.
On Sunday, March 27, 1836, the Latter-day Saints in Kirtland, Ohio, dedicated their impressive temple for use. "I canot Begin to Discribe the Buty of this Fine Bilding," raved Clarissa Bicknell Orton.[1] When they first planned it, some leaders argued they could only afford to build their temple out of logs. A year before its completion, members expected "the whole cost, when finished, will probably be from twenty to thirty thousand" dollars.[2] By the time they finished the temple, it had probably cost forty thousand dollars or more.[3] Members and their friends donated substantial resources toward the building—clearly paying for most costs—although the Church still had some modest debts from building it as well as from printing the scriptures, land purchases, and other activities.[4] Two days after the last dedicatory service, Oliver Cowdery met with other members of Frederick G. Williams & Co., a business organized to finance some of their activities, and sought "to devise ways & means to discharge the debts."[5] Before the meeting ended, they reorganized and partially divided company stock with William W. Phelps and John Whitmer, who were then released from the firm.
Company members Joseph Smith and Oliver were appointed as "a board or committee whose duty it shall be to raise all the money they can in righteousness for the mutual benefit of the said company or firm" to redeem Zion.[6] At the same time, Frederick G. Williams and Sidney Rigdon, the two remaining members, were made debt collectors to bring in "outstanding claims of the firm and such other means as they may deem most proper to discharge the company debts."[7] They set out on that same day to help raise this money by asking members personally for contributions. Despite recent generous donations given at the temple dedication, their requests met with immediate success. "As soon as the above plan was settled, he [Joseph] and O. Cowdery set out together, and their success was such in one half day, as to give them pleasing anticipations."[8]
Following initial optimism, however, donations did not come from everyone who could give. During May and June, this led to a series of cases brought primarily by Oliver Cowdery before Kirtland's high council, where the stingy were confronted for not helping their own families, the poor, and the Church in general. In one case brought forward by Joseph, Bishop Newel K. Whitney noted that not bearing one's portion of the burden of helping the poor was a complaint "pretty general in the Church."[9] Several individuals at the meeting noted in various ways that they "could more easily get two dollars from a poor man than one from the rich" to help build the kingdom.[10] As these cases continued, perhaps in response to such attitudes, Church leaders opened several stores to bring in additional income rather than just seek donations. To open these enterprises, Hyrum Smith and Bishop Whitney bought goods on credit from merchants in Buffalo, New York, worth somewhere between twenty and forty thousand dollars—doubling or tripling their debt.[11] Leaders also bought more land on credit. It was these actions rather than temple construction costs that created a large debt burden bringing them "in debt for their farms and for goods bought in New York."[12] Joseph opened a store in Kirtland with part of the goods, and he, Oliver, and others opened another in neighboring Chester with the rest.[13]
Even with the recent acquisition of substantial debt, as June arrived, finances looked good for the Latter-day Saints. As a community, they owned large tracts of surveyed and subdivided land, significant equity in the most impressive building in the region, and substantial stores of commodities worth much more in booming Ohio than their initial cost in New York. Their well-timed expansion came during a sharp rise in economic growth in Ohio prompted by the recent completion of major elements of the state's canal system. During this growth, Ohio's citizens noted a spirit of speculation as enterprises of all sorts sprang up along the canals, all around Cleveland, and throughout the Western Reserve—particularly along the shores of Lake Erie. This enthusiasm for expanding markets was part of a national trend, but it especially took root in western states, where heavy immigration attracted investors who outbid each other to get additional property on credit. This spurred a lending boom.
Although only the U.S. Congress could direct the printing of money, businesses of all varieties made loans based on banknotes they printed and used much like promissory notes.[14] Banks became the principal force behind issuing and circulating these notes even though they were not the only originating institutions. Bank deposits did not earn direct interest as they would later but economists at the time encouraged people to deposit their money in banks as a means of fostering saving in a protected environment.[15] In addition to serving as a deposit institution, typical banks printed and distributed banknotes as a means of providing loans to the community by "discounting" them (lending less to the borrower than was owed at the end of the loan period). Each banknote represented debt owed by a borrower to a financial institution which was financed through company stock.
Banks were not the only institutions to issue banknotes and other businesses from libraries to flour mills issued notes, typically discounted at much higher rates since they were more difficult to trade and redeem. Businesses often issued notes without a charter from the state legislature authorizing them to do so; but if they had a state charter their notes were backed by government assurances of their character and notes of chartered institutions circulated more readily than those of unchartered ones. Notes of chartered institutions were also partially regulated by state government and evaluated in trade sections of major newspapers. Thus, chartered institutions could loan larger amounts than their nonchartered competitors and loan at better discounts. This enabled them to make more money. In addition, as 1837 opened, the federal government was on the verge of returning millions of dollars in excess revenue to the states that the states were expected to invest in local growth through chartered banks.
Businesses issuing banknotes made most of their money from these notes by discounting them but they could also make money as borrowers spent the notes and drove up prices fostering an increase in the value of their assets, particularly increases in property values that sometimes provided collateral for loans. In a speculative environment, banknotes became a useful engine to industrial growth. Because of this, even businesses chartered for other activities could not resist getting in on lending opportunities. In northeastern Ohio, as growth continued unabated, "some companies were chartered by the legislature for manufacturing and mercantile purposes and proceeded to flood the country with their notes and others issued them in quantity without any charter."[16]
Most of these institutions "were born of speculation" and arose principally to promote development by "speculations in Western lands" and in imagined cities which had no existence except as traced on paper or elaborate maps. The streets were generally laid out at right angles, and of liberal width. Corner lots were regarded as exceedingly desirable, and were estimated, bought, and sold at fabulous prices. . . . The craze grew in intensity, and many banks exhausted their entire capital in loans to influential land-speculators. Stringency in the money-market followed, yet speculation ran wild. Corner lots in imaginary cities continued to advance. A single fifty-dollar bill, which had been marked, was known to have been the identical first payment made in the purchase of some dozens of unimproved city lots by different individuals in Ohio City within the course of a single month. In fact, the one fifty dollar bill became about as well known to the citizens as the town pump or church-steeple.[17]
This widespread optimism took hold in Kirtland as well. "At this time the spirit of speculation in lands and property of all kinds, which was so prevalent throughout the whole nation, was taking deep root in the Church."[18] However, the Latter-day Saints also stood in a good position to take advantage of the growing interest in land because, in the spirit of gathering, a number of those coming to Ohio's Western Reserve were newly converted members.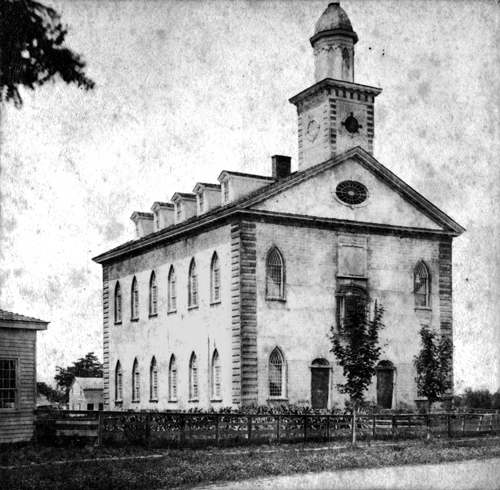 In this photograph, the Kirtland Temple (ca. 1870) is shown with crops growing neatly around it. Immediately behind the temple showing to its left is the Johnson and Boynton store, partially visible on the north side of Whitney Street. Directly across the street to the south of the store stood Oliver Cowdery's early office, partially visible in the photograph. In the far left of the image, the corner of Oliver Cowdery's 1840s law office is also partially visible. (Courtesy of Church History Library.)
Imagined growth included plans for an expanded city.[19] More settlers would buy all the property for sale and support numerous businesses, including the recently opened Church stores in Kirtland and Chester that were then competing against private interests.[20] The most significant merchandising effort began almost directly across the street from Oliver's office on Whitney Street; Lyman Johnson and John Boynton opened a store on this prime real estate and borrowed twenty thousand dollars from Church members in Boston, enough to pay off most of the remaining Church debts if used for that purpose instead. Orson Pratt began selling iron stoves in Boynton, and Johnson & Co., and others were drawn to their efforts as well. A drop in salaries and heavy demands on income accompanied rising local competition.[21] "The Saints were very poor. Many of the Elders had been absent on Missions. Had spent their time [preaching] and their families in their absence had consumed their substance and money was very scarce."[22] Members increasingly bought on credit. Brigham Young, for example, owed money on a pair of "panterloons" (trousers) at a local shop.[23]
As they expanded market activities, members of the Church also became interested in investing in lands as a speculative venture. Lyman Johnson and John Boynton again seemed to lead out in these efforts with part of the twenty thousand dollars they borrowed from Polly Voce and other Boston members. Along with opening a store, they purchased large tracts of land on credit and divided the land into smaller lots to sell to new residents.[24] This local rise in speculative ventures became obvious to everyone within the community. Ebenezer Robinson left on a mission June 2, 1836, and returned by the first week of July to find that in the five-week period "a great change had taken place in the Church, especially with many of its leading official members. A spirit of speculation was poured out." He continued, "Some farms [in Kirtland Township] adjacent to Kirtland [Flats] were purchased by some of the heads of the Church, mostly on credit, and laid out into city lots, until a large city was laid out on paper, and the price of the lots put up to an unreasonable amount, ranging from $100 to $200 each, according to location."[25] Lyman Johnson and John Boynton had purchased a large tract of land on credit north of the flats and sold lots to incoming members but had not yet paid for the land.
Shortly after this, as they searched for means to pay their debts, Oliver Cowdery left with Joseph Smith and others on July 25 for Salem, Massachusetts, in search of money a member claimed was abandoned in a house. While there, Joseph Smith received a revelation, "Concern not yourselves about your debts, for I will give you power to pay them" (D&C 111:5). It was during this journey, perhaps after receiving this revelation, that these men first seriously entertained the idea of establishing a bank to raise money.[26]
Joseph Smith played a key role in these deliberations. "The prophet had conceived a plan of instituting a Bank, with a view of relieving their financial embarrassments."[27] Their relief from debt was not to come directly through transferring loans to the bank. It would come through fostering land development enabling them to earn their way out of debt. In addition, the shift from trying to earn income through merchandizing, which because of the poor circumstances of the gathering members and increased competition did not seem to work, to earning money through land investment, seems to have been emphasized specifically to help meet the needs of the poor. Church leaders had already purchased property from Peter French that would serve as the center for their planned city. But they anticipated a need for additional property as the gathering Saints were also buying land elsewhere. Oliver later published meeting minutes produced under Joseph's direction that noted those who came to Kirtland with their families were "crowding in upon us, and are compelled to purchase [land] at any rate; and consequently are thrown into the hands of speculators, and extortioners."[28] Leaders announced, "Our houses are all full, and our lands mostly occupied, except those houses that do not belong to the Church, which cannot be obtained without great sacrifice."[29] The need to acquire land in Zion, which included Kirtland as its easternmost border, took precedence over paying for debts as leaders moved more actively into real estate investment.
In addition to a desire to protect members from outside speculators, there also seems to have been interest in protecting them from becoming caught up in greed. "We were grieved to see the spirit of speculation that was prevailing in the Church; trade and traffic seemed to engross the time and attention of the Saints."[30] Within this setting, Church leaders decided to establish an institution "organized, with a view to controlling the prevailing sentiment and directing it in legitimate channels."[31] Although it is not clear at what point on their journey to Salem their decision became solidified, Joseph Smith, Oliver Cowdery, and others returned from Massachusetts with a clear sense of direction.[32] On September 13, 1836, either the day they returned to Kirtland or the day after, the firm of Smith, Rigdon, and Cowdery acquired thirty-nine acres of farmland from Hiram Dayton as the first of a sustained series of investments.[33] William Draper bought thirteen and one-quarter acres from Dayton at the same time and immediately sold the land to Joseph Smith the next day.[34] These initial purchases were all apparently made with cash. Soon additional investments required credit.
The stores operated by Church leaders had not done as well as expected. Tight resources in Kirtland may have made it difficult for those who received store credit to pay. "'Well,' says Joseph," as Brigham Young later related it, "'these goods will make the people apostatize; so over they go; they are of less value than the people.' . . . In this way it is easy for us to trade away a first-rate store of goods, and be in debt for them." [35] His use of the words "trade away" to describe what happened to the store goods may not have referred to the practice of giving credit to poor members as much as it reflected the manner the Church withdrew from merchandizing. Joseph traded ten thousand dollars in store goods as a down payment to buy David Holbrook's farm at four hundred dollars an acre.[36] He gave more than seven thousand dollars in merchandise to Jacob Bump as a down payment for over one thousand acres of his Kirtland property. The bulk of the store goods may have gone to Bump, in fact.[37] The Kirtland store closed, while the Chester store continued for another year, taxed for twenty-five hundred dollars in goods. It may have done reasonably well because it competed only against Austin Turner's smaller Chester store while Joseph's Kirtland store competed against at least four enterprises operated by Church members and several additional shops run by non-members.[38]
After they traded their goods for land, they were not only in debt for those goods but Oliver and his companions continued to buy land on credit.[39] Because some of these purchases were not recorded in the land deed records, it is not clear how many were made. Known purchases suggest large tracts were bought for substantial sums. Church leaders returned to Peter French, who had sold them a large piece of land more than three years earlier, and bought an additional large tract on credit for $11,777.50.[40] The first ten days in October marked a significant period of debt acquisition, when leaders purchased over $36,595.70 in property on credit.[41]
Although these investments may have already been funded by member investments, the earliest documentation of such member support is five days after these purchases when Brigham Young entered into his account book "Oct. 15 [1836] B. Young paid to the Bank this day $150 cents in silver."[42] Three days after this, on October 18, the Kirtland Safety Society began selling stock, with Sidney Rigdon listed as the first subscriber.
From the outset, it appears the Kirtland Safety Society was intended to be an egalitarian bank designed to include a wider income range than typical. Most institutions only wanted those financially well off as stockholders, and they shaped the price of their stock accordingly (usually selling shares for as much as four hundred dollars each with installments running from twenty-five to one hundred dollars each). The Kirtland enterprise sold stock at fifty dollars a share, which could be bought in modest installments apparently set at twenty-six cents each. On paper bank organizers required that "all persons subscribing stock in said firm shall pay their first installment at the time of subscribing," and dividends were set for distribution every six months "according to the installments . . . paid in," allowing investors to pay more as their circumstances allowed.[43] The stock ledger indicates some investors paid in more than their first installment (and were later refunded the extra amount).[44] It also shows that some leniency was given to those who could not quite pay the first installment, resulting in a few individuals paying very little down on their shares.[45] The egalitarian nature of the enterprise created an unusual bank with subscribers including men and women, black and white, Mormon and non-Mormon, merchant and farmer, old and young, wealthy and poor.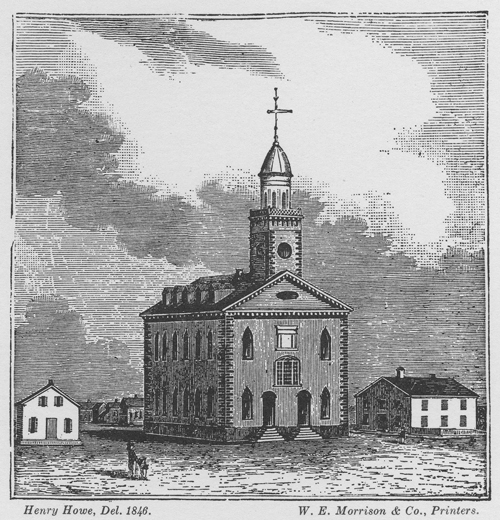 When Henry Howe published this lithograph of Kirtland in 1846, he identified the two-story structure to the left, situated south of the temple, as the "old banking house." This may have been the same building that Wilfrod Woodruff in 1837 called the Kirtland Deposit Office, out of which the Kirtland Safely Society managed its operations. However, this building stood for many decades further south of its location in the lithograph, so this image may have been adjusted for effect. (Henry Howe, Historical Collection, 1847)
By the end of October, an initial thirty-six subscribers served as the core group of investors and as a whole contributed over four thousand dollars to the institution. On November 2, 1836, the "brethren of Kirtland," which may have been officially designated Church leaders, formally gathered to form "a banking institution, to be called the 'Kirtland Safety Society.'"[46] The bank was to have thirty-two directors. Although the names of most of these directors are not known, the thirty-six men and women who were the initial subscribers may have overlapped this group in some way.[47]
This egalitarian approach to management again differed from most institutions, which were usually controlled by fewer than a half-dozen individuals. But the Kirtland Safety Society also had a smaller group that followed the typical management model consisting of six individuals as a "committee of the directors" that included a president, cashier, and chief clerk. This smaller group included Sidney Rigdon, Joseph Smith Jr., Frederick G. Williams, Reynolds Cahoon, David Whitmer, and Oliver Cowdery. From this committee the directors elected Sidney Rigdon to serve as bank president and Joseph Smith to serve as cashier. Frederick G. Williams appears to have served as the first chief clerk although Warren Parrish would later become a director and fill that position.
The bank directors' plans included capitalizing the enterprise to the amount of four million dollars. Although this was excessive for typical banks, which capitalized between one hundred and three hundred thousand dollars, it was a conservative figure for banks that supported railroad or canal construction, which typically capitalized at between four and six million dollars.
Bank investors funded construction of a story-and-a-half "deposit office" with a basement designed to store large amounts of coin.[48] Wilford Woodruff took a tour of the bank on November 25, 1836, after arriving in Kirtland in a hard snowstorm, suggesting the building was completed fairly quickly. At the meeting of bank organizers, they elected to purchase a Delano hobnail safe for just over two-hundred and fifty dollars to hold printing plates, banknotes, and probably the stock ledger and discount book that kept track of loans. They ordered printing plates "at a great expense" to produce their banknotes. This expense of several thousand dollars required purchase on credit.[49] Because decisions about using color or black inks and about using professional banknote printers or simply printing at home could impact the cost of the transaction considerably, a printer was a good choice for following through on the acquisition of printing plates. Bank officials selected Oliver Cowdery to do this.
Cowdery perhaps should have been selected to handle the second major assignment to come out of the meeting—getting a bank charter approved.[50] He had been to the Democrats' convention in Columbus and was a personal friend of influential party members. Instead, bank investors gave Orson Hyde that task. Orson was one of few member of the Whig party in Kirtland and all three members of the legislature representing their county were also Whig party members. Orson had little exposure to bank plans, having only briefly met with other Church leaders in New York on their way to Massachusetts. He had only recently returned from a mission and was not an investor in the bank nor involved in any way in its business. He had interests elsewhere having turned his attention to helping Jacob Bump take his recently acquired store merchandise and shape it into a mercantile operation.[51] Hyde also had no political experience.
If Oliver Cowdery had gone to a Cincinnati banknote company, he could still have made it to nearby Columbus in time for the opening session of the state legislature on December 5 and taken care of both tasks.[52] Instead, he looked east to New York, where the banknote printing firm of Underwood, Bald, Spencer, and Hufty had an office. He may have selected them since these skilled printers were noted for making bills difficult to counterfeit.[53] It is more likely, however, he already arranged to buy printing plates in New York while traveling to Massachusetts earlier since less than two weeks after he formally received his task, a traveler going through Kirtland wrote a letter from Munson, Ohio, dated November 14, noting, "They have procured plates from New York, for issuing Bank notes; they previously issued notes payable in 30 days after demanded."[54]
Banks at that time were "the pioneers in big business in Ohio," and even politicians who opposed some form of banking in principle acknowledged that they were necessary in limited contexts.[55] Whigs and Democrats alike believed they were important for creating jobs.[56] Although many Democrats tended to be antibank in principal, particularly Oliver Cowdery's political associates in Ohio, they recognized that banks had benefits locally.[57] Even those politicians opposed to banking were generally not such hard-liners that they could not be bribed or induced to support the institution of a friend when it proved convenient.[58] However, garnering support and creating alliances took months of preparation. If Orson Hyde had arrived at the beginning of the legislative session in December, he would have had considerable work ahead of him to get a petition for a bank charter in Kirtland very far through the process. Those bank charters that passed through that year's session had broad support from various districts and dedicated support from at least a few legislators. Hyde, however, was still in Kirtland on December 5, 1836, as the session opened when (apparently assuming the Kirtland Bank would not open soon to lend him money) he borrowed $850 with partners to get his business going.[59] Jacob and Samuel Medary, Oliver Cowdery's political associates in the Democratic Party, reported on the formation in both the House and the Senate of banking committees to handle all charter proposals during the first weeks of December.[60] Orson Hyde not only missed that critical period, he was still in Kirtland on January 4, 1837 when he borrowed still more money for his business from the Safety Society that was about to open.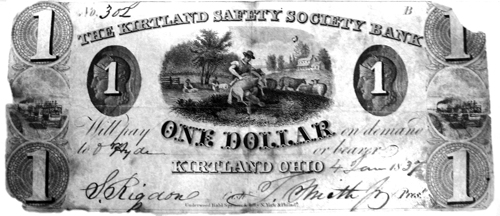 This one dollar Kirtland Safety Society note in the collection of Newell Harward was issued to Orson Hyde on January 4, 1837, the first day banknotes were signed, in preparation for a January 9, 1837, opening. Hyde initially borrowed money for his business on December 5, 1836, but this note suggests he continued to borrow money and that if he went to the state legislature in Columbus, Ohio, at all during its session, he left quickly and was not there when most of the banking lesislation was discussed. (Photograph courtesy of Robin Jensen)
A proposal for a Kirtland Safety Society bank charter never even made it to a committee during December 1836.[61] If someone from Kirtland had made it to Columbus during December, instead of finding elected representatives ready to help him he would have found his county's politicians with different priorities—priorities perhaps directly in opposition to the Safety Society administration's plans.
On December 20, Geauga County Representative Seabury Ford introduced for its first reading a bill on behalf of the Ohio Railroad Company headquartered in Painesville. This company anticipated a successful hearing and began issuing banknotes in the greater Kirtland area a few weeks later before it had an approved charter. Ford followed this by introducing a supplementary bill for the company, clearly giving it all the support he could. He effectively worked this bill through the system so that by December 29, the entire House of Representatives as "committee of the whole" considered the bill for its second reading and approved it to the Senate for its third reading.[62] If they approved the final wording of the bill, it would then be enacted into law not only giving the institution legal support for the banknotes it was issuing but perhaps more importantly, in the eyes of Kirtland leaders, authorizing a company to build a railroad that Kirtland's officials had hoped they could construct. News of this approval may have reached Kirtland by the end of the year.
Representative Ford's activities in the legislature that December would be a distinct concern for the Latter-day Saints in Kirtland. Ford sat on Geauga County Agricultural Society's board along with Senator Ralph Granger, newspaper publisher Eber D. Howe (who would shape public opinion), published anti-Mormon Josiah Jones, and industrialist Grandison Newell.[63] (Representative Rockwell did not sit on the board but later became a trustee of the Western Reserve Teaching Seminary housed in the Kirtland Temple, directly benefiting from Kirtland's banking troubles.) This board held a remarkable list of opponents to Kirtland's business interests. The most vocal opponent to Kirtland's banking interests over the next few months was Grandison Newell. Newell, an industrialist with business interests in northern Kirtland, Painesville, and the rest of the county, had a chair factory that had been hurt by Mormon competition.[64] He and his partners in the Fairport and Wellsville Railroad Company obtained a charter in 1836 with $274,800 in stock subscriptions. Newell did business with the county's other two legislators, Senator Ralph Granger and Representative Timothy Rockwell, maintaining close financial ties with every member of Geauga County's political team.
In addition, Newell was one of the Bank of Geauga's founders and a member of its board of directors.[65] The Bank of Geauga was established in 1829 as the sole bank in the county but recently built a large new brick building in the summer of 1836 on the corner of Main Street and the Park in Painesville, expecting to expand operations through railroad growth in the state.[66]
Representative Ford was successful in the legislative session during December in promoting a rail line connected to Grandison Newell: the Painesville and Fairport Railroad. The legislature chartered Newell's railroad in January and gave it some state money in March as part of the Loan Law (later vilified as the "Plunder Law") that put state money into private businesses that most (including Newell) never repaid. It was not Ford, however, but Senator Granger who pushed the Bank of Geauga bill through the legislature during its annual session. Newell was in Columbus during the session, suggesting he may have played a role behind the scenes in getting his charter through.[67]
As the standing committee on banks released its report during the last week of December, every newspaper reader in the state knew the Bank of Geauga had only sixty-seven thousand dollars in capital—by far the least amount of any authorized bank in the state when most institutions averaged several hundred thousand dollars.[68] Senator Granger presented a petition on January 3, 1837, from the stockholders of the Bank of Geauga for an alteration of its charter. He managed to get the petition referred to himself as a committee of one to prepare a bill to go before the Senate.
Although the details of Granger's proposal are not known, this move in the Senate was clearly not good news for Kirtland's banking hopes. When Kirtland's Latter-day Saints talked of all other financial institutions being "laid in ruins" in coming economic troubles they somehow anticipated while everyone else expected continued growth, they principally had the Bank of Geauga in mind because that was the bank distributing the money used not only in Kirtland and the surrounding area but throughout the larger region. Citizens fifty-three miles to the south of Kirtland started the Cuyahoga Falls Real Estate Association that winter (without seeking a charter) and issued banknotes in January 1837 specifically to free themselves from reliance on Bank of Geauga notes.[69]
In addition to low capitalization, the Bank of Geauga likely did not have the typical 10 percent gold and silver reserves backing its notes. In January 1834, when the region enjoyed a real boom in growth and rising prosperity, a creditor came to the Bank of Geauga presenting five hundred dollars in bills and asked to exchange them for specie (coin). The cashier closed the bank doors because he did not have five hundred dollars in specie.[70] Although the institution recovered by the fall of 1834, New York financiers backed out of the more than fifty percent controlling interest they had, and Newell and other local investors were left to purchase their stock, taking on the whole burden of the bank's success with no outside influx in capital.[71] The recent construction of a new building would have drawn from the bank's cash reserves.
It is not clear what Latter-day Saints believed or understood about the likelihood of getting a charter when they received news of Senator Granger's support for Newell and the Bank of Geauga. However, news of his proposal presumably traveled back to Kirtland since as it moved its way to the floor of the senate, the proposal was accompanied by a flurry of activity in Kirtland as bank leaders sought to reorganize their instution to function without a charter.
Since the legislature was still in session, there was still a possibility that the proposal for a Kirtland Safety Society could make it to the floor for discussion sometime early in 1837. However, for some reason the Kirtland institution's directors felt they could not wait for the chartering process to work its way through. Even though pressing debt may have been a factor, it is unlikely that this was the only motivation for the brief series of events that followed, because by even the accounts of their opponents, the institution had enough money on hand when starting that its officials could have met creditors' immediate demands.[72] Besides, over the next few months a focused attempt to acquire additional land instead of pay off debt suggests other issues were at play. The news that came from the floor of the legislature to Kirtland must have been unexpected, because it created an immediate response. It was not simply that the Ohio Railroad Company would start issuing banknotes out of Painesville (which it did), because others in the region were doing the same thing. The Ohio Land Company (headquartered in Medina) used real estate as capital backing banknotes it distributed at the same time in the region south of nearby Cleveland. The Commercial Bank of Lake Erie and the Western Reserve Real Estate Association stationed in Cleveland issued banknotes in 1837.[73] Banks in Massillon and Sandusky borrowed money from New York financiers and opened their doors in early 1837 without approved bank charters.[74] The Cincinnati & Whitewater Canal Company issued scrip on January 2, 1837 without a bank charter and used their notes to pay contractors and workers on their canal. The Rolling Mill Company in Massillon managed to obtain an "extremely liberal" charter that allowed them to raise six hundred thousand dollars in capital stock with the "power to do anything but a banking business." This did not keep them from issuing a prodigious number of banknotes backed by their grain reserves.[75]
The unexpected news that came from Columbus during the legislative session most likely had something to do with Senator Granger's activities in relation to the Bank of Geauga. Although there were laws in place since 1816 restricting banking activities without a charter, there appears to have been some uncertainty as to what types of financial activities could take place outside of strictly banking charters, and only a few members of the legislature meekly raised concerns about these largely ignored laws. In fact, when bank charters became an issue in Geauga County, a local Democratic newspaper explained the law to its readers and noted it was "doubted, however, by good judges, whether the law to which we have alluded is now in force, or if in force, whether it is not unconstitutional, and therefore not binding upon the people."[76] The paper then discussed banks in terms of the Democratic Party's concepts of rights. There was enough uncertainty as to whether these laws still applied with widespread lack of enforcement that Ralph Granger raised the issue on the Senate floor in Columbus.
Not only did Granger come out supporting Bank of Geauga legislation, but on December 29 he introduced a motion that the judiciary committee "be instructed [by the Senate] to enquire whether any, and if any what alteration is necessary in the law prohibiting the issuing and circulation of unauthorized bank paper."[77] His raising the specture of legal action against "unauthorized bank paper" may have initiated concerns in Kirtland. Before this, the laws were so completely ignored that when a disgruntled debtor brought charges for operating without a charter against the president and cashier of the Farmers' Bank of Canton, the Canton community was outraged and the jury that heard the case "returned a verdict of not guilty, without even the formality of retiring to make up their verdict."[78]
Kirtland Safety Society officials were more cautious about the uncertainties of law than were bank officials in Canton, and on Monday, January 2, 1837, members of the Kirtland Safety Society met and voted unanimously to revise their constitution. They changed their articles of agreement, transforming themselves from a bank into a financial corporation, presumably believing this would allow them to avoid the charter issue. They changed the name of the institution to the Kirtland Safety Society Anti-Banking Company, although private journals, letters, and historical memory still knew the firm as simply the Kirtland Safety Society.[79] Officials also voted to add a statement in the fourteenth article of agreement (an idea promoted in Representative Kelly and Senator Crouse's banking reform bill at that moment before the Senate) to hold themselves personally bound for the redemption of all notes issued from their institution, taking away the benefits of incorporation. This made it virtually impossible for the institution as a whole to defraud anyone. It also made it less likely that one member of the Safety Society would attempt to defraud others since his actions would do significant harm to all company members. This approach required that each member care deeply about every other member of the firm.
A shift from seeking to operate as a chartered bank to function instead as one of the many unchartered corporations in the area appears to have been viewed as only a temporary solution. Acting without a charter made the millions of dollars in federal monies then being disbursed to banks across the country inaccessible to the Safety Society.[80] An 1834 law stated that unincorporated banks lending money could not collect their debts. Although this law was not widely known, until the Kirtland Safety Society was in full operation, and apparently not enforced, any hint of impropriety made a financial institution less stable and easily destroyed through innuendo or blatant false accusations. Safety Society officials clearly expected to get a charter soon.
The decision of Oliver Cowdery and his companions to open their institution without a charter is one of many puzzles in the institution's brief history. It may have been an attempt to meet the legislature's requirement that a proposed bank show it could operate effectively before getting charter approval. It may have been a hasty attempt to provide recent immigrants a means of purchasing farms and establishing themselves in the community. Many of these immigrants were living in wagon boxes and makeshift structures. Granger's attempt to pass legislation on behalf of the Bank of Geauga likely played a significant role in instigating a quick opening.
In addition to remaining questions as to why the bank opened before a charter was in place, is the unexpected decision of Kirtland Safety Society officials to do business with the Bank of Geauga. On the same day as their restructuring meeting, Safety Society officials went to Painesville as the Bank of Geauga opened for the new year and took out a three-thousand-dollar loan for a three-month period, apparently at 6 percent annual interest—the going rate. There are no clear answers for this. Why would a financial institution with thousands of dollars in hard currency in its vault go to another institution rather than draw from its own financial reserves? Why would a financial institution poised to issue its own banknotes the following day not just use its own notes to meet whatever needs it had? Why did they go to the Bank of Geauga rather than another institution in Cleveland or Buffalo where Church leaders had connections and clear support from other banks? Although there are no easy answers, the timing of the loan and Granger's petition in the Senate the very next day, January 3, requesting modifications to the Bank of Geauga's charter, are likely more than coincidental. The loan may have been an attempt to placate Bank of Geauga directors by indicating Kirtland officials were willing to work with and pay interest to the Painesville bank.[81] Kirtland's leaders may have assumed the Bank of Geauga would accept Safety Society notes the following day in payment, serving to distribute the notes more widely. They were wrong. When the Bank of Geauga did not accept them, the bank's depositors refused them as well.[82] Whatever the reasons for getting the loan, it added one more way that the Bank of Geauga was able to influence its new rival and tip the outcome of the experience.
On January 3, Frederick G. Williams consolidated financial records and transferred debts from a "Ledger A" and a "Ledger B" into a single book that may have been his personal ledger but also included debits and credits under an entry for "Bank," which, because of the dates and associated notations, was clearly the Kirtland Safety Society. Oliver Cowdery carried over from "Ledger A" a debt of $24.19 that on January 3 was adjusted to $35.83 as he apparently continued to borrow. Most other debts were small, although a few were close to a hundred dollars. Two debtors, however, stood out from the rest. Warren Parrish owed $3,359.[83] Williams noted he owed the bank thirty-six hundred dollars. In return, the bank owed Williams two dollars by January 7, likely his dollar-a-day director's salary, marking an official beginning of his salary on January 5. It also owed him two dollars for one day's labor, probably for the time he spent signing banknotes on January 4.
After extensive signing and dating of notes by banking officials, by Friday, January 6, the Kirtland Safety Society was ready for the Monday grand opening.[84] Even on that day, there still seemed to be a little uncertainty that opening the institution was a good idea.[85] Bank officials distributed most of the first issue of banknotes shortly after opening their doors. Banks issued banknotes in the process of making loans, exchanging one asset for another. The borrower would then spend the notes on whatever he wished, knowing he would have to pay the loan back in thirty days (sometimes sixty or one hundred ten days, depending on the bank and how frequently the loan could be renewed). Issue dates on Kirtland banknotes indicate they were loaned on a 30 day cycle. Good banks carefully watched how much money they loaned because they knew that a certain amount would come back as people requested coin to pay taxes, purchase federal lands, travel, or meet some other need for legal tender. They usually kept some coin in their vaults for these kinds of requests, ranging from a high of 30 percent of their demand liabilities (deposits and banknotes) to a low of less than 5 percent.[86]
Kirtland immediately created the jobs expected. Brigham Young finally had work and hired others. In a few weeks he bought a $125 horse and a small quantity of lumber.[87] Jonathan Dunham's wage jumped from seventy-five cents to $1.25 a day, just two days before the formal agreement establishing the Kirtland Safety Society was signed. Then, the day the institution was formally established, salaries jumped again to $1.50 per day, where they continued for a brief time.[88] On January 11, the Steam Mill Company purchased files from N. K. Whitney & Co. to sharpen saw blades and began a regular purchase of canvas, lead, and other plumbing materials for its pipes, and additional equipment as it expanded its business and hired sawyers, lathe operators, glaziers, and other craftsmen.[89]
Meanwhile, Grandison Newell moved to stop the Safety Society. He boasted "at length" through the years of "how he [had] 'run the Mormons out of the county.'"[90] Other locals accepted his view and later credited him with singlehandedly driving the Latter-day Saints out of Ohio. A friend of his noted, "Mr. Newell . . . fought them hard. It was more on account of his opposition than any one thing, that forced the Mormons to leave Kirtland."[91] Without overstating Newell's claim to credit for the Kirtland Safety Society's downfall, he clearly played a pivotal role in influencing others.[92] James Thompson, an employee of Newell, remembered that his boss began as soon as the Safety Society opened to "drive about the country and buy up all the Mormon money possible, and the next morning go to the bank and obtain the specie."[93] Thompson believed this action alone singlehandedly closed the doors of the Safety Society.[94] In addition to Newell's personal efforts, however, the Bank of Geauga immediately refused acceptance of the Kirtland notes. The Painesville Telegraph, which had supported other troubled banks in the past, cited the precedence of the Bank of Geauga when it noted that businesses in the region also refused Kirtland's banknotes. The rejection of the notes by Painesville's bank was followed by other more distant institutions refusing them, which "operated . . . to destroy the currency of these bills with men of business who had [to] deal with the banks," because if they accepted the notes they had no way of passing them along.[95]
I. P. Axtell, Esq., the son of a Painesville Baptist minister who had considerable interaction with Kirtland, was not a Latter-day Saint but watched their efforts and later became a bank director himself. He concluded the Latter-day Saints "went into the banking business as a great many others in the State of Ohio and other States. They got considerable money out at first, and their enemies began to circulate all manner of stories against them. . . . The people began to get alarmed at so many stories, and would take other banks' issue instead of the Kirtland; and so much of it was forced in at once that the bank was not able to take it up. Had the people left these Saints alone there is no reason that I know of why the Kirtland Bank should not have existed . . . on as stable a basis as other banks."[96] The Kirtland Safety Society's troubles did not rest solely on unfounded rumor and innuendo, however, as additional factors also came in to play.
Initially undaunted, Kirtland Safety Society leaders moved forward as soon as they opened for business and moved aggressively into the real estate market.
When the Bank first began to issue its currency, Br. Joseph, the Prophet[,] proposed to Br. Brigham and and [sic] Br Hyrum, that they should commence buying farms[.] The first one that was purchased, was from a Mr Stannard, a farmer who lived on the edge of the town of Chester. This purchase was made by Joseph and Brigham. The Prophet paid over to this Mr. Stannard $2000 00/100 from the Bank, and they gave a Mortgage and their Notes for semi-annual payments [at regular future dates], until all the purchase money was paid over. They took possession of the premises and all the personal property thereon, such as horses and colts; cows and calves; work oxen and farming utensils; hay and grain that was in the barn. . . . This process was followed by many of his brethren and friends who made purchases of property round about Kirtland and the adjoining towns. Brigham and Hyrum made a number of purchases after this took place; as also the Prophet's brother Samuel purchases a farm in Mentor. He also paid $2000 00/100 for it from the Bank; and this was followed up by a good many purchases by the brethren who lived in Kirtland.[97]
Because these mortgages were never paid off and never entered into the county deed book, it is not clear how much additional debt came because of them, but debt clearly continued to climb substantially from what they started with in the early summer of 1836.
Over the next six weeks, the institution encountered many challenges, but a continued lack of a charter appears to have troubled Safety Society leaders most. However, outsiders readily acknowledged that the lack of charter did not shape their negative response as much as did their opposition to Mormonism. "We do not object to private or company banking, as a system," the editor to the Cleveland Daily Gazette responded two days after Kirtland money first arrived in his community, "but we consider this whole affair a deception" that "seems to rest upon a spiritual basis."[98]
Meanwhile, the quest for a charter continued as Kirtland Safety Society officials pushed to get one in two different ways, in both of which Oliver Cowdery appears to have played a role. The first attempt came to final resolution in February 1837.[99] On February 10, State Senator David Crouse pushed a banking reform bill through both branches of the legislature.[100] At the end of the long list of proposed amendments to the reform bill, Samuel Medary, a Quaker and the Democratic senator who reported the minutes of the session, offered an amendment on behalf of Kirtland. Because Medary was one of the "most loyal friends and staunch supporters" of President Andrew Jackson, his editorial on national banking served as the foundation of Jackson's great veto message against the national bank, and Medary was fully supportive of federal attempts to control banking and the associated corruption that he believed were rampant within the system.[101] The strong opposition to corruption in banking that Medary wrote into President Jackson's famous message did not mean he was opposed to beneficial community operations that fostered economic growth. Although opposing federal banking, he spoke several times in favor of local banks. His support for Kirtland apparently fit those sentiments as "Medary proposed an amendment incorporating the Kirtland Safety Society, in Geauga county, capital $300,000."[102] His support later hurt him politically.[103] Medary's proposed amendment to the banking reform bill to convey a charter for the Kirtland Safety Society failed by a vote of eleven to twenty-four, Senator Granger voting against it.[104]
It is not clear why those opposed to banking corruption who were pushing for banking reform generally supported the Kirtland charter while those who received money from the state for their own enterprises and never repaid it were widely opposed to the Kirtland Safety Society. Presumably those in favor of the institution saw something in the Kirtland effort that fit their desire to end corruption but what they expected is one of the many still unexplained aspects of the Kirtland experience.
The inexperienced Granger and his companions from Geauga County were likely not able to pull together such a large opposition vote on their own. Just days before the charter proposal approached the senate floor, some newspapers reported that the Kirtland Safety Society refused to exchange specie for notes. It is difficult today to assess the accuracy of these reports because other newspapers vehemently denied them. Those claiming a bank closure seemed tentative in their assessment, such as the February 7, 1837, report in the Western Reserve Chronicle which placed the suspension of specie on Saturday, February 4, but acknowledged that its information was based on rumor.
Financial records and subsequent transactions confirm that the Safety Society clearly had at least some specie still in its control shortly after these announcements, suggesting that the institution had not yet refused to redeem notes and that the rash accusations were intended to influence the outcome of the vote in the Senate. The Painesville Republican accused Servantes (Grandison Newell writing under a pseudonym) of trying to bias the public to "preclude the possibility of [Kirtland Safety Society officials] having a fair and impartial hearing" as the charter proposal made its way to the legislative floor.[105] In Canada an observer challenged the claims "respecting the failure of the 'Mormon Bank'" and insisted, "The Bank has not refused to redeem its notes in specie up to the present time. . . . The Buffalo Star states 'that the Bank redeems all its notes in specie' and this is confirmed by the arrival of a gentleman this morning from Kirtland who has been an eye witness to the operations of the Bank from its formation."[106] Although the ability to redeem Safety Society banknotes by the end of January is not clear, the validity of paper money of any kind has always been an act of faith. Newell's organized mobbing and run on the bank was real, and even unfounded accusations that the Society had closed its doors would carry weight in the Ohio state legislature. Despite still having at least some resources available, Oliver Cowdery and his associates may have anticipated failure in their bid to get a charter as they began spreading tight resources thinner. On January 29, Cowdery spoke in the Kirtland Temple, followed by Joseph Smith, who promised the Saints "if we would be faithful we should rise above our imbarresments & be delivered from the hands of our enemies."[107] By this point in time, the Safety Society's board of directors had apparently already begun looking for a way to counter the coordinated attack by their enemies.
Both N. K. Whitney and Sidney Gilbert had lived and done business in Monroe, Michigan on the shores of Lake Erie where a number of the community's most prominent citizens operated the chartered Bank of Monroe—including bank president Captain Henry Smith who as a young lieutenant fought alongside army suttler N. K. Whitney at the battle of Plattsburg. Kirtland's officials began looking to Monroe's best citizens as they sought a solution to opposition to their charter proposal. The Bank of Monroe's charter could be used to support Kirtland's institution.
The day after Joseph's speech in the temple promising if they were faithful they could yet be delivered from their enemies, a newspaper in Cleveland reported that a then unknown J. V. Ayer of Buffalo, New York "and other gentlemen" had made arrangements to purchase controlling interest in the Bank of Monroe. Initial arrangements occurred at least a week before this announcement and may have preceded accusations of bank closure in Kirtland as the Safety Society's leaders anticipated trouble ahead. Although no one had yet purchased the Monroe bank, the newspaper noted that the Commercial Bank of Lake Erie and the Bank of Cleveland would accept Bank of Monroe notes.[108] This was strong local support for the institution. The virtually unknown John Varnum Ayer would only later become an influential railroad magnate and could not yet provide significant prestige to the bank while George Bancroft, later a renowned historian, had recently reopened the Commercial Bank of Lake Erie, and his bank had a solid record reporting $387,400 in circulating banknotes and $56,000 in specie in its vault.[109] The Bank of Cleveland began with $300,000 in capital in 1834. These two financial powerhouses lent additional support to the Monroe bank.
The day after this announcement, Kirtland leaders held another meeting in the temple on February 1, 1837. Joseph Smith and Sidney Rigdon spoke on the temporal business of the Church. Aware that a charter proposal was about to be brought forward in Columbus on February 10, they announced that they had "petitioned for a Charter to the Assembly of the State for the Kirtland Safety Society." Apparently anticipating a negative outcome for that pending petition, however, they also announced their connection with "the Monroe Charter" from the Bank of Monroe in Michigan.[110] Although Kirtland Safety Society officials still had not bought the charter, it appears that arrangements were under way in case the Kirtland charter proposal failed in the legislature. Wilford Woodruff, who did not know these details, assumed Kirtland leaders already had a charter from Michigan when he recorded the announcement in his journal.
On that same day J. V. Ayer traveled through Geauga County on his way to Monroe and announced his new connection with the Bank of Monroe.[111] His announcement may have expressed intention more than fact, however, as it is not clear if Ayer actually became involved with the bank. When asked in Cleveland if the Mormons were also connected with the bank, he denied it and gave no indication they may have talked together, may have been working together, or were competitors for a controlling interest. On that same day, leaders in Kirtland dissolved the firm of Oliver Cowdery & Co. "by mutual consent, and the entire establishment was transferred to Joseph Smith, Jun., and Sidney Rigdon."[112] This change anticipated Oliver's new role in their efforts to raise money in righteousness since Michigan laws required all bank directors to actually live in the state.
The Bank of Monroe had recently suffered a "groundless newspaper fabrication" accusing it of being unstable.[113] It turned out that the rumors were orchestrated by the New York Herald in conjunction with "the most unprincipled brokers in Wall street" to destroy the credit of banks in Michigan in an attempt to purchase their banknotes at a considerable discount and make huge profits as they exchanged them for coin in Monroe.[114] This attempt failed as citizens in Monroe produced spontaneous affidavits supporting the bank, and travelers who had been through the area sent letters to New York papers confirming that they had been able to exchange notes for specie. The New York Daily Advocate noted, perhaps prematurely, that the malicious rumors were "wholly erased."[115] The officers of the Bank of Monroe issued a signed and notarized statement providing their readers a detailed assessment of their accounts as of August 24, 1836.[116] It showed a modest institution with a solid financial base, having four-fifths of its stock controlled by New York investors.[117] As the public brought the institution under more careful scrutiny, it was ultimately considered a "sound and highly respectable institution, whose operations are characterized by the most impartial, judicious and honorable administration."[118] However, in the world of banking, where reputation is everything, even unsubstantiated accusations could influence the flow of money over time. Several months later, as the balance of stock ownership changed hands, Henry Smith, former Monroe mayor, local superintendent of the Lake Works, and the bank's president, found himself still assuring the public that his bank could redeem all its notes for coin.[119]
Monroe's bank leaders all had solid reputations. Captain Henry Smith's military connections continued to play a role in his business relationships. The board of directors included war veteran James Godfroy, who served a term as the local mayor. It also included military hero Laurent Durocher, a trader and entrepreneur who helped found Monroe and then served as postmaster, a territorial legislator, and state senator. Directors James Q. Adams and George B. Harleston had also served as Monroe's mayors. Harleston became cashier July 27, 1836, to replace Mr. Brotherson, who resigned.[120] His reputation, along with that of Henry Smith, went a long way toward garnering local support. The last two directors, A. D. Frazer and Bailey G. Hathaway, served the community as local developers.
As Joseph Smith, Hyrum Smith, Oliver Cowdery, and other Kirtland Safety Society officials met in Monroe with the community's most distinguished citizens, it is unlikely they knew their bank charter proposal would be rejected in Ohio on the same day; however, it appears as though they expected that would be the eventual outcome. Even before the February 10 meeting, Kirtland's officials were already considered stockholders and may have already made some kind of commitment to Monroe.
During the meeting between Kirtland's leaders and Bank of Monroe officials, stockholders and the board of directors of Monroe's bank approved the withdrawal of Harleston as Monroe's bank cashier and his replacement by Bailey J. Hathaway. Then the gathering appointed Oliver Cowdery as a director and vice president of the Bank of Monroe to serve the remainder of the business year, which ended in July.[121] The choice of title as vice president is an unusual one because banks typically operated with a president, cashier, clerk, and tellers. It seems to have created confusion among bank officials as to how the institution would be managed. As they finished restructuring the bank, its officials included Henry Smith retained as bank president and Hathaway as cashier. J. J. Godfroy, Laurent Durocher, and Bailey J. Hathaway continued as directors with Oliver Cowdery as the last director and the only Ohio voice on the board.[122]
On February 11, Kirtland officials gave the Bank of Monroe three thousand dollars in cash from "Cleveland d[ra]fts" as good as gold from the Bank of Cleveland. They added to this ninety-five dollars in gold coin, suggesting what others insisted, that the Kirtland institution still had specie in its coffers to redeem notes. Kirtland officials also received notes for $12,000 from Hathaway and for $8,026 from Henry Smith, perhaps as part investors in the reorganized Bank of Monroe. Three days later Sidney Rigdon paid $200 in Monroe banknotes to the Kirtland Safety Society, and on February 18, Oliver Cowdery gave an additional $5,600, bolstering the Safety Society's reserves as the first round of loans would fall due and the institution would issue a second large batch of loans through banknotes.[123]
Immediately on the heels of Kirtland's connection with Monroe, newspapers announced the Latter-day Saints had a controlling interest in the Bank of Monroe, information likely provided by Kirtland Safety Society officials interested in turning the tide of opposition against their institution.[124] Bad weather likely delayed the Latter-day Saints leaders briefly, but they were soon back on the road to Kirtland to try to bolster support there.[125]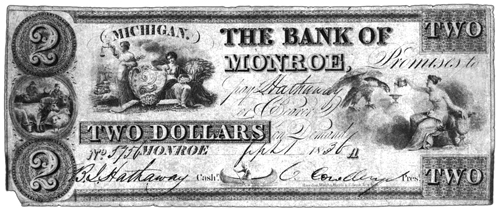 This two-dollar banknote was signed by Oliver Cowdery as president, suggesting he may have acted in that role briefly after Henry Smith resigned his position. However, it was issued to B. J. Hathaway, who signed as cashier, and dated September 1, 1836, before either Hathaway or Cowdery had connections with the bank, so it may have been dated long before it was issued. It is a reminder of the many puzzles that still remain in Monroe's banking history. (Photograph courtesy of Church History Library)
Joseph's presence back in Kirtland and the completion of the Monroe transaction helped calm some of those concerned, "for the complainers saw that he stood in the power of a Prophet."[126] When G. S. Pelton from Russell came to Kirtland to do business, he refused to take "Mormon money" but accepted four dollars in Bank of Monroe notes when offered.[127]
Meanwhile, challenges surfaced for Oliver Cowdery in Monroe. On February 13, a few days after the acquisition was completed, the Cleveland Daily Gazette, which had previously so mercilessly attacked the Safety Society, announced that the Bank of Monroe had closed its doors and was no longer redeeming its notes. When Monroe bank officials learned of the accusations, they immediately wrote a response, insisting their institution had "never refused or declined to redeem its bills on demand."[128] As they found themselves again defending their reputation and handling requests to exchange notes, the bank announced that during their earlier February 10 meeting they had voted to expand their stock issue to five hundred thousand dollars and to require additional payments on capital stock of twenty-five dollars per share over a one-week period in April. These large installment payments were typical for other institutions, but the expanded stock offering suggests an interest in greatly increasing investment.
Perhaps it was the renewed attacks against the bank or differences in opinion between Henry Smith and Oliver Cowdery over this sharp request for money from shareholders, but in the next week's issue of the paper, Smith announced his resignation as a bank director and president effective February 24.[129] Hathaway, as cashier, announced a meeting of the directors at the banking house on Saturday, March 4, presumably to respond to the resignation and determine what direction the bank should take, although this was also the day when Martin Van Buren succeeded Andrew Jackson as president, a good time to reevaluate any business's direction.
The Bank of Monroe survived the continued attacks and leadership turmoil, suggesting it was likely fundamentally a sound enterprise.[130] However, in the midst of these problems, it temporarily closed its doors.[131] The Painesville Telegraph noted that the "Monroe Mormon Bank" closed "after having for its presiding officer about three weeks the wonderful and noted Oliver Cowdery." The editor mocked the bank statement's list among its assets of "plates" used for printing banknotes by asking, "Do these last items include the golden plates and silver spectacles through which [they] . . . manufactured a bible of 500 pages?"[132]
Despite having a board of directors that included some of the best people Michigan had to offer, the bank continued to battle bad publicity. "One Who Knows," probably someone connected to the bank, wrote a letter to the editor explaining that the close of the bank was due to "a constant pressure, for several months, on the Institution, urged on by false reports, and cunning shavers."[133] This account placed troubles to a period before the Kirtland Safety Society's involvement in the institution, when the concerted effort to ruin the reputation of the bank by Buffalo newspapers and New York investors began. However, the letter does not explain the timing of the closure nor the fact that Monroe's other bank, the Bank of River Raisin, was forced at the same time to suspend specie payments for sixty days.[134]
The announced temporary closure must be considered in the context of other key events that took place at the same time. Perhaps the three most significant of these were (1) the nationwide panic of 1837 that started on February 13 in New York and led to the first bank closures in March; (2) Henry Smith's withdrawal from the bank followed by a stockholders' meeting the next week, twelve days before the announced closure; and (3) Michigan's passage of the nation's first free banking act on March 15, 1837, the day before the announced closure.
Scholars still debate the parameters and implications of the panic of 1837 and its associated bank collapses, but they agree that Andrew Jackson's "Specie Circular" played a central role.[135] President Jackson vowed to do something to change the trend of speculation by requiring that all federal lands be purchased with specie. However, his policies led to a shift of hard currency away from financial centers in New York, Philadelphia, and Baltimore to rural communities in Ohio and Michigan.[136] Specie in Michigan rose from $112,419 in 1835 to $172,071 in 1836, peaking at $564,275 in 1837 before falling to $123,635 by 1841.[137] This need for specie derived from continued speculation in land. The previous fall, Monroe's newspaper noted there was "something wrong" as it reported that the Merchants' Exchange Bank in New York refused to give out coin when asked, but instead gave a requester notes from the two banks in Monroe and asked him to go to Monroe to get the money, which he did.[138]
In February interest rates on typical monthly loans stood at 2 percent—to carry a loan for a year would cost 24 percent, a hefty rate for America's many debtors.[139] On February 13, 1837 a mob in New York City stormed Eli Hart's flour warehouse protesting rising prices, marking the beginning of a panic. The looting of food warehouses spread and continued into March. As Monroe's bank officials met March 4, 1837, inflation was at its highest. British banks demanded that U.S. merchants pay large remittances in specie, creating cash imbalances that contributed to a 50 percent decline in cotton prices and triggered further economic decline. This led to falling stock values, a credit crisis, and a banking collapse.
Leading up to this crisis, the federal government found itself with a surplus of money and decided to return it to the states to spend. The government distributed the first installment of this surplus on January 2, 1837, withdrawing nine million dollars from eastern banks and distributing that gold and silver across the country. This left insufficient coin in eastern banks. Although most banks in Ohio hoped to benefit from this large influx of money (perhaps including the Kirtland Safety Society, which may have rushed its opening that week, hoping to take advantage of the windfall that never materialized), the Ohio legislature authorized the city of Cincinnati to borrow six hundred thousand dollars and subscribe two hundred thousand dollars each to the Little Miami and Louisville, Cincinnati & Charleston railroads and the Whitewater Canal. This shifted economic activity even further west.
Ohio was not equipped to respond effectively to the growing financial crisis. On March 24 of that year, the Ohio legislature passed the Plunder Law, which looked much like institutionalized bribery, allowing private canal and railroad companies to give stock in their institutions to state officials in exchange for up to one-third of their authorized capital in state monies.[140] Six railroads, two canals, and twenty-six turnpikes received money through this arrangement, including Grandison Newell's railroad company. Newell never repaid the money. In fact, only one business, the Little Miami Railroad, repaid the state its debts in full. Four days later the Ohio legislature distributed two million dollars of the state's share of the federal surplus to counties to loan out to banks and internal improvement companies; however, most of the money was loaned to individuals. If Kirtland had hoped to benefit from this windfall, it never happened.
Meanwhile, in Michigan an increasing need for specie seemed almost imperceptible at first, but as speculation by New York investors grew out of control, the need for hard cash became acute. This continued to the point that by June, Monroe's community brought in fifty thousand dollars of specie, announcing that another fifty thousand would arrive that same week. Yet even that dramatic influx hardly seemed to make a difference.[141] Most of the hard currency went to the Bank of Michigan, which was handling federal land acquisitions, and the draw on coin pulled money from local banks as Monroe's own population sought opportunity to speculate in land acquisitions.
An explanation of the Bank of Monroe's closure offered by "One Who Knows" suggests that a shortage of gold and silver coin in the bank's vaults played a role. Although the previous bank cashier, the debt-ridden George Harleston, was clearly involved in speculation and had purchased large tracts of land, it may not have been banking officials using specie to buy federal lands but their clients caught up in the investment fervor that led to trouble. As investors sought to draw hard cash for their land deals, the Bank of Monroe continued to get bad publicity from newspapers in Ohio, which served to increase the drain of precious metals from the bank's vault.
This ten-dollar note was part of the second major issue of banknotes which came out in March 1837. It was later reused in Utah with the signatures of Brigham Young and Heber C. Kimball, obliterating Sidney Rigdon's name but leaving Joseph Smith's signature intact. (Courtesy of Church History Library)
In the midst of this economic turmoil, Michigan reformed its banking laws by passing the nation's first free banking act on March 15, 1837. This act eventually completely transformed American banking as one state after another adopted a free banking policy, a transformation that would eventually lead to the modern banking system.[142] In the beginning, however, Michigan began its deregulation without proper oversight, and fifty-five new unchartered banks sprang up almost overnight—many acting irresponsibly. The reform did away with the need to obtain a charter from the legislature.[143] The day after the reform measure passed, the Bank of Monroe announced a temporary sixty-day closure. If a bank refused to redeem its notes for specie, the new regulations required that its doors be permanently closed.[144] However, there was leeway for those banks that closed before the new law went into effect, which may have encouraged a preemptive closure by existing institutions. After this temporary protective period, the Bank of Monroe and its neighbors reopened as planned.
Most of the loans issued by the Bank of Monroe were to "sundry individuals" in New York City and Buffalo. Monroe's published bank statement indicates that in addition to the $52,219.19 in discounted bills it held (banknotes from other institutions in the East it acquired at a discounted rate in Michigan to exchange at the originating institution at par value), other institutions and individuals owed the bank $115,569.67. Unnamed institutions outside New York owed $25,233.62, but the bulk of the debt was owed by New Yorkers. Although ledgers have not surfaced indicating who was loaned money and when, an examination of the names on surviving banknotes are principally those of bank officials J. V. Ayers, B. Harleston, L. Durocher, and H. Smith, all of whom received notes signed by J. Q. Adams. (James Adams, a prominent local figure, served as bank president before Henry Smith and was loaning money to Ayers well before Oliver Cowdery became connected to the institution). Oliver Cowdery signed loans to bank cashier B. J. Hathaway and unidentified borrowers Morrison, J. D. Shaw, and C. W. Hony.[145] Cowdery did not sign any notes for loans to Ohio citizens and the relatively small number of borrowers outside of New York interests were likely principally Michigan residents. This suggests that the Kirtland Safety Society was primarily interested in operating under the charter of the Bank of Monroe rather than the ability to borrow money from the institution.
In addition to the money owed the bank, the Bank of Monroe had debts of its own. It owed other institutions $5,482.74 and its depositors $11,544.79. It also had $122,565 worth of notes in circulation (notes that had most likely gone east and represented debts owed in Buffalo and New York City). Although the Bank of Monroe still had $32,369.59 of cash on hand (gold, silver, and banknotes from other institutions combined), so much of the debt load was centered in a few debtors in New York that one default would spell disaster back in Michigan. The bank averted disaster, however, probably due to its timely and temporary closure.
A national crisis became apparent to everyone in May when many banks closed their doors and panic spread.[146] All fifty-five new banks in Michigan closed during the crisis, bringing down some of the long-established banks with them. Bank notes distributed for the Kirtland Safety Society by Latter-day Saints in the East became virtually worthless overnight. Even local Ohio banknotes lost their buying power as all the banks in Cleveland that guaranteed Bank of Monroe notes suspended specie payments on May 19.[147] The Bank of Geauga closed too.
Throughout this crisis, the Bank of Monroe maintained approximately one hundred thousand dollars in bank note circulation during 1837 and continued to receive a rating for its notes in Bicknell's Counterfeit Detector and Bank Note List published in Philadelphia.[148] By the end of 1837, Monroe's banknote circulation dropped to approximately seventy-five thousand dollars and then it closed the year at thirteen thousand dollars, with $2,459 in specie still held in its vaults. Circulation dropped to ten thousand dollars through most of 1838 and into 1839.[149] The legislature revoked the Bank of Monroe's charter in February 1842.[150]
Although the Bank of Monroe averted disaster during the 1837 panic, Oliver Cowdery's position at the bank did not survive the crisis. It is not clear if Cowdery willingly withdrew from bank administration to forestall outside attacks in the press or if other bank directors pushed for his removal because accusations of Latter-day Saint connections hurt their business. However, Oliver was back in Kirtland at least a week before Michigan's Free Banking Act was enacted on March 15. On March 6, 1837 he bought a long list of items from N. K. Whitney & Company, including a glass lamp, morocco shoes, snuffers, cotton thread, and lots of textile for women's clothing. He bought ten painted bowls and dress trimming the next day, more items on March 9, and black silk gloves, lace, and shoes on March 17. It almost seems as though his family was making up for their period of separation on Michigan's frontier.[151] Since Michigan's new laws required its bank officials to be legal residents of the state to serve in an institution, Cowdery's presence back in Kirtland marks a separation from the institution. Besides, after the enactment of the Free Banking Act, any hope to strengthen Kirtland's economic efforts through the Bank of Monroe's charter became moot.[152]
Oliver Cowdery was back in Kirtland long before the annual stockholder's meeting in July, when Monroe elected a new bank president, and there was clearly no plan for him to continue with the bank. By then America's economy had collapsed. It is not clear if Oliver regained his former position as a bank director in Kirtland when he returned but after coming back from Monroe he remained aloof from the institution.
Warren Parrish, describing Joseph Smith's views in a later attempt to defend himself, noted that Joseph believed the Kirtland institution would "swallow up all other banks (the Bank of Monroe excepted,) . . . and survive when all others should be laid in ruins."[153] However, Parrish failed to include Joseph's dire warning that the Latter-day Saint efforts could only be successful if they operated on righteous principles, perhaps because such warnings would only serve to indict his own role in Kirtland's bank.
When he arrived back in Kirtland, Oliver Cowdery found the city in turmoil. A visitor observed Joseph and several of the Brethren "talking bank, money, steam mills and so on, and the Prophet was very busy." Joseph finally broke away from those following him to attend to other business only to have one of the men catch up with him and ask to speak with him for a moment longer. Exasperated, Joseph exclaimed in a short audible prayer, "I wish I were translated," and walked away in frustration that "everyone wanted to speak with him for just a minute."[154]
As the spiritual, social, and financial burdens of an entire community rested on the shoulders of a thirty-one-year-old Vermont-born well digger and farmer, troubles that percolated under the surface for some time boiled over into an open dispute.[155] Wilford Woodruff, who lived with the Parrish family for most of the month of May, noted that these troubles had been "brewing in the family Circle in the secret Chamber & in the streets."[156] It was not just Warren Parrish and a few bank officials who were losing faith in the institution in the face of opposition; some investors also lost faith. Perhaps the most prominent of these was the John Johnson family.
Although more than two hundred men and women, Saint and Gentile, black and white, rich and poor, merchant and farmer invested in the Kirtland Safety Society, 57 percent of the burden and blessing of ownership rested on three families, and of these three it was the Johnson family that was leveraged.[157] The day after the leaders of all the Cleveland Banks that supported Kirtland's efforts announced they would suspend specie payments, Johnson and his daughter Emily Quinn went to the Kirtland Safety Society and redeemed their shares of stock for a little over six hundred dollars in cash. Their withdrawal not only followed the closure of Cleveland's banks but also came the day before Kirtland Safety Society management was to appear in court for operating without a banking charter.[158] The sale of stock represented a clear break for John Johnson from Church administration.[159] Over the next week and a half, in seventeen separate transactions, John Johnson rapidly sold all the Peter French property under his control.[160] Johnson then bought land from Oliver Cowdery on Saturday, May 27.[161]
The next day's meeting in the temple was full of confusion.[162] On Monday, John Johnson was listed as a high councilor to hear evidence against his son Lyman and others opposed to the Prophet. However, three others were selected to replace missing council members, and John may have been one of those missing, because on the same day he was selling off the last of the property he controlled.[163] Oliver Cowdery presided at the meeting, along with Sidney Rigdon. Joseph Smith did not attend, probably due to illness. Joseph became visibly ill within days. (As relationships fell apart, an epidemic spread throughout Kirtland. Oliver and Elizabeth Ann Cowdery lost their infant on May 9, and many others also died during early May, including family members of those who played key roles in Kirtland.)[164]
Joseph Smith was accused by some of his closest friends of wrongdoing during the May 29 council meetings.[165] He became severely ill and "appeared to be so far gone that Brother Rigdon told us that he should not wonder naturally speaking if he did not live till night."[166] After a few weeks, Joseph finally "dared to be out in the air."[167] He came out of his illness arguing that the Safety Society would not survive because "no institution of the kind, established upon just and righteous principles for a blessing not only to the Church but the whole nation, would be suffered to continue its operations in such an age of darkness, speculation and wickedness."[168] Rather than blaming Newell or politicians, Joseph looked internally to the Church itself as the primary cause of failure.[169] He lamented that their trials "were actually brought upon us by the brethren not giving heed to my counsel."[170]
During the first ten days of June, the first officers resigned from their positions as Kirtland Safety Society managers. Joseph Smith came out strongly against the Safety Society and directed that the banknotes be redeemed as a new round of notes were issued.[171] Rather than follow John Johnson's course in demanding cash for their stock investments, Joseph Smith and a number of his associates turned their stock over to Oliver Granger and Jared Carter to make a full settlement of all debts.[172] As Joseph and some of the principle stockholders withdrew, others such as John Boynton joined the institution, expecting the Safety Society to do better after the withdrawal. Although the Society's original directors "issued orders that the money should be retained in the bank as fast as received," notes were still scattered across the region, and the process was not completed when they withdrew from administration.
After the original administration publicly directed the retention strategy, Kirtland's citizens apparently believed the new administration would continue the same strategy as individuals redeemed notes to pay debts. Instead, they carried out exactly the opposite strategy. Brigham Young was one of the first to discover this when he received notes from Oliver Cowdery that had been turned into the Safety Society for redemption. [173] Without hidden marks or express writing on notes themselves, it would have been impossible for Cowdery or anyone without access to bank records listing banknote serial numbers to know they were recirculating redeemed notes, and Cowdery's involvement could have been nothing more than an attempt to help his community redeem notes. Since no banknotes survive today bearing the signatures of the new administration or dates after the change in administration, it is not clear if the new bank was actually making its own loans or simply chose to place existing banknotes directly in circulation without making loans, knowing that the Safety Society's assets would no longer cover its notes adequately and that it would be forced to refuse to redeem notes in the future, severely blackening the reputation of everyone even remotely involved.[174] Because all discussions of banknotes before the change in administration seem to suggest they continued to trade at par (although they were never rated in national newspaper listings), it may have been during this period that Safety Society banknote value began to slip. Luke Johnson and John Boynton were apparently involved in the Safety Society when "they continued to pass and sell the worthless stuff until they sold it at 12 ½ cents" on the dollar.[175] Values would only drop dramatically if efforts to redeem notes were abandoned at some point. After a period when it would become evident that notes would never be redeemed, they would become worthless. It is not clear at what point this happened. By June 27, 1837, a resident in Kirtland wrote that they had "nothing but Kirtland money."[176] Sarah Cleveland was arrested just before July 17 for passing banknotes although no specific charges were apparently made.[177] A disillusioned Warren Cowdery published editorials on the Kirtland Safety Society under a July date, suggesting the institution was still viable in July or shortly afterward.[178] Although there is no record of the new administration issuing loans, if they did so after they first took over leadership, the first round of thirty-day loans would fall due sometime in mid- to late July. A second round would fall due in mid- to late August. The announcement of Sarah Cleveland's arrest in the newspaper in July seems to have marked the beginning of the end, and by the end of the month Warren Cowdery wrote about assigning blame for the institution's problems. In September, Parrish still "managed the institution," suggesting it still operated in some fashion.[179] However, it appears to have closed for good sometime in September.
On Sunday, September 3, members in Kirtland sustained Joseph Smith, Sidney Rigdon, and Frederick G. Williams as "the three first Presidents of the Church" despite Williams's continued association with Warren Parrish and the Kirtland Safety Society after the withdrawal of Joseph Smith.[180] They also raised hands to sustain Oliver Cowdery, Joseph Smith Sr., Hyrum Smith, and John Smith as assistant counselors who, along with the First Presidency, were "considered heads of the Church." Oliver Cowdery received unanimous support along with the others. However, Joseph Smith issued an announcement immediately afterward, noting, "Oliver Cowdery has been in transgression, but as he is now chosen as one of the presidents or counselors, I trust that he will yet humble himself and magnify his calling."[181]
The next day Joseph Smith acknowledged the difficulties they had faced in Kirtland but added, "which are now about being settled." Just over a week after sustaining Oliver Cowdery in his position, Marinda Hyde, one of the few members of the Johnson family to remain in the Church, wrote to her husband then serving a mission in England. "Such times in Kirtland you never witnessed as we now have," she wrote. "But I have learned by experience that we must each one watch and pray and know for ourselves. for it seems that all confidence in each other is gone."[182] Mary Fielding, Joseph Young, and others saw the Lord's hand in what happened.[183] Even Oliver Cowdery's brother Warren, who openly disagreed with Church leaders on the direction the Safety Society should take, was circumspect in laying blame for its troubles. He argued, "It is easy to see, when the deed is done, the die cast and the time gone by, where there were errors, but we are not now to judge any man. They may have been errors of the head and not of the heart: we should impugn no one's motives, but as far as truth and reason can go, exercise that grace, 'that thinketh no evil.'"[184]
It is not clear where Oliver Cowdery stood in relation to his brother's feelings. However, the Prophet's accusation that Oliver had "been in transgression" suggests he may have also disagreed on the direction the Saftey Society should take. Perhaps this was when Oliver "urged" a lawsuit against Joseph Smith and Sidney Rigdon by Nathaniel Milliken, who had left the Church and joined the Parrish group.[185] Oliver Cowdery's feelings and behavior during this period remain obscure. A few weeks after he was sustained in his priesthood office, he was implicated in an alleged counterfeiting scheme led by Warren Parrish. Those leveling accusations acknowledged that the evidence was only circumstantial and hinged on the testimony of someone who was also involved in the plot.[186] The unfounded accusations still helped blacken Oliver's reputation.
In the wake of the Kirtland experience, "the committee on Church revinue" in Far West, Missouri, met on December 7, 1837, "for the purpose of adopting a plan whereby the church of Latter Day Saints may voluntarily raise means by tithing themselves to be a fund ready at all times to assist the poor with. and also to compensate the Servents of the Lord for their services in attending to the business of the church. and for other necessary purposes." This committee proposed a plan of tithing members two percent of their worth, excluding "widows generally and all other families not worth over seventy five dollars each."[187] The following summer Joseph Smith received revelation on the subject, clarifying that members were to contribute their surplus property, after which "those who have thus been tithed shall pay one-tenth of all their interest annually" (Doctrine and Covenants 119:4). This revelation gave a clear direction and provided the method maintained today for raising money in righteousness.
Although Oliver Cowdery had played a central role in Kirtland's attempts to raise money in righteousness, his relationship with other Latter-day Saints would never be the same after the closure of the Kirtland Safety Society. Exactly one year to the day after Joseph Smith was forced to flee Kirtland, Loll Thompson and Lyman Pitcher, as Kirtland's overseers for the poor, requested on January 12, 1839, that constable Jason Markell warn "O Cowdery + family" to leave town.[188] Such warnings rarely led to actual expulsions, but they reflected a concern by town officials that Oliver Cowdery and his family were poor enough they would require community support. This turn of events reflect the changing circumstances of a man who had once been a bank vice president and director of two different banks who set out to help the poor and to build Zion.
Notes
The author acknowledges the assistance of Richard L. Anderson, Gordon A. Madsen, Joseph F. Darowski, Scott G. Kenney, and Jeffrey N. Walker in the preparation of this paper.