Throughout the history of the symposium, presenters have included notable General Authorities of the Church, historians, scholars, educators, and authors. This symposium was established to explore annually a topic of special interest in the history of The Church of Jesus Christ of Latter-day Saints. Historians and scholars meet to share the fruits of their research with each other and a general audience of interested Latter-day Saints and friends. Selected papers from previous symposia have been printed in books copublished by the Religious Studies Center and Deseret Book.
2022 Church History Symposium
Latter-day Saints and Religious Liberty
Historical and Global Perspectives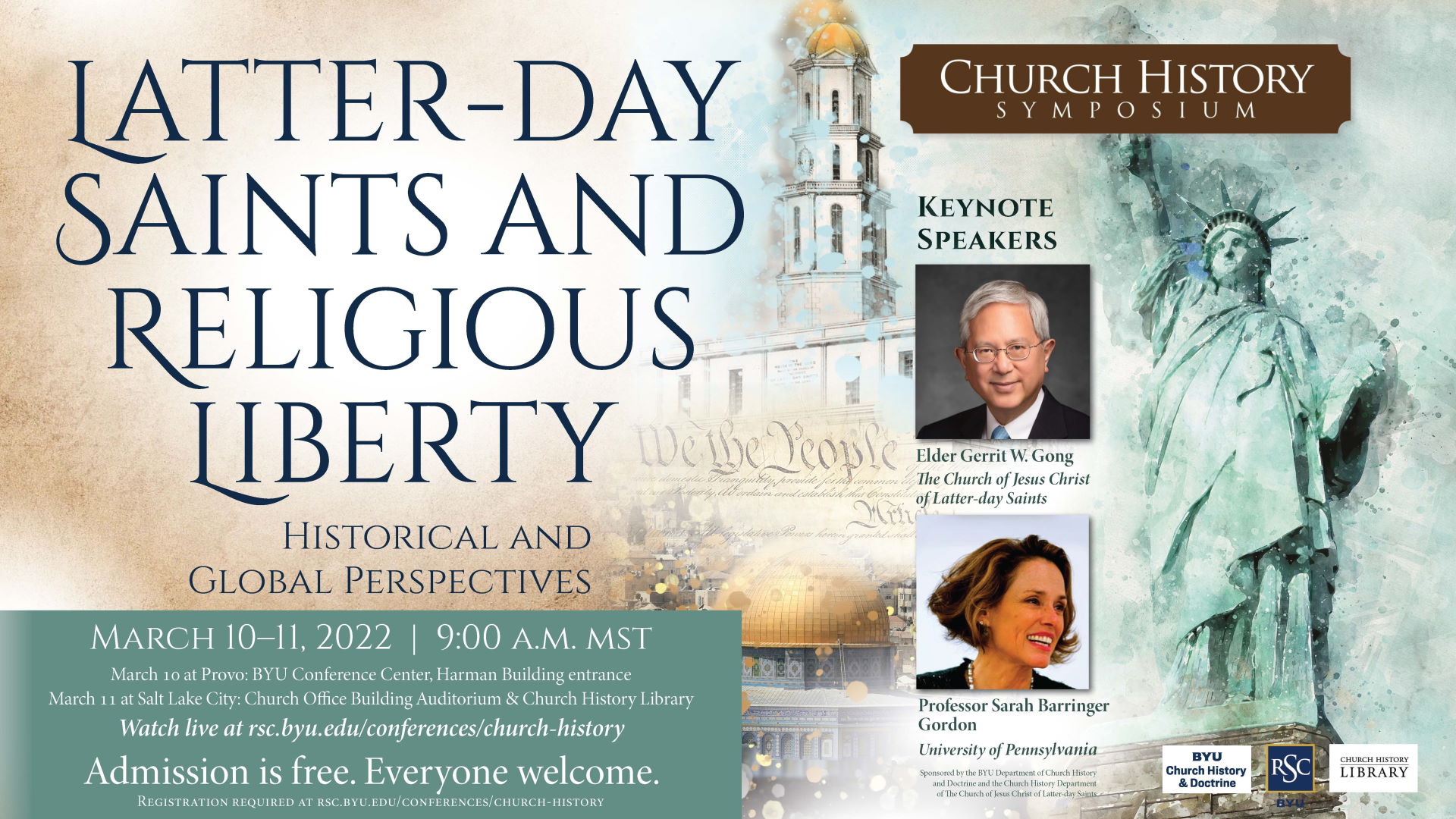 March 10–11, 2022
9:00 a.m.
March 10 @ Brigham Young University in Provo; March 11 @ the Temple Square Assembly Hall in Salt Lake City
Admission is free. Everyone is welcome.
The Department of Church History and Doctrine at Brigham Young University together with the Church History Department of The Church of Jesus Christ of Latter-day Saints announce the 2022 Church History Symposium to be held on March 10–11, 2022. The symposium will convene at Brigham Young University on March 10 and at the Assembly Hall in Salt Lake City on March 11. Keynote speakers include Elder Gerrit W. Gong, Quorum of the Twelve Apostles, The Church of Jesus Christ of Latter-day Saints, and Sarah Barringer Gordon, University of Pennsylvania Professor of Constitutional Law and History.
In 1842, Joseph Smith published the Wentworth Letter, which produced the following Articles of Faith:
11. We claim the privilege of worshipping Almighty God according to the dictates of our own conscience, and allow all men the same privilege, let them worship how, where, or what they may.
12. We believe in being subject to kings, presidents, rulers, and magistrates, in obeying, honoring, and sustaining the law.
These statements occasionally stand in contrast to one another: ensuring free exercise of religion while upholding the law. Throughout its history, The Church of Jesus Christ of Latter-day Saints has found itself operating in a wide variety of conditions, some sympathetic to these ideals and others less so. Because of the doctrinal and historical importance of religious freedom, the Latter-day Saint experience can provide a unique perspective on this principle.
Past Symposia