Crossing of the Hartley
Ronald D. Dennis, The Call of Zion: The Story of the First Welsh Mormon Emigration (Provo, UT: Religious Studies Center, Brigham Young University, 1987), 31-6.
About the time the Buena Vista emigrants were recuperating from their bout with seasickness, seventy-seven other Welsh Saints back in Liverpool were just about to set sail on board the Hartley. These had fully intended to journey across the Atlantic with their compatriots, but when it was determined that the number of paying passengers exceeded the number of accommodations on the modest-sized Buena Vista, one-fourth of them had to be reassigned ships. After having waited in Liverpool eleven days, already a week beyond what was originally anticipated, those selected to extend their wait for yet another week were disappointed and displeased. Some had even been sleeping on board the Buena Vista when they had been asked to leave. What criteria were used to determine ship assignments is not clear.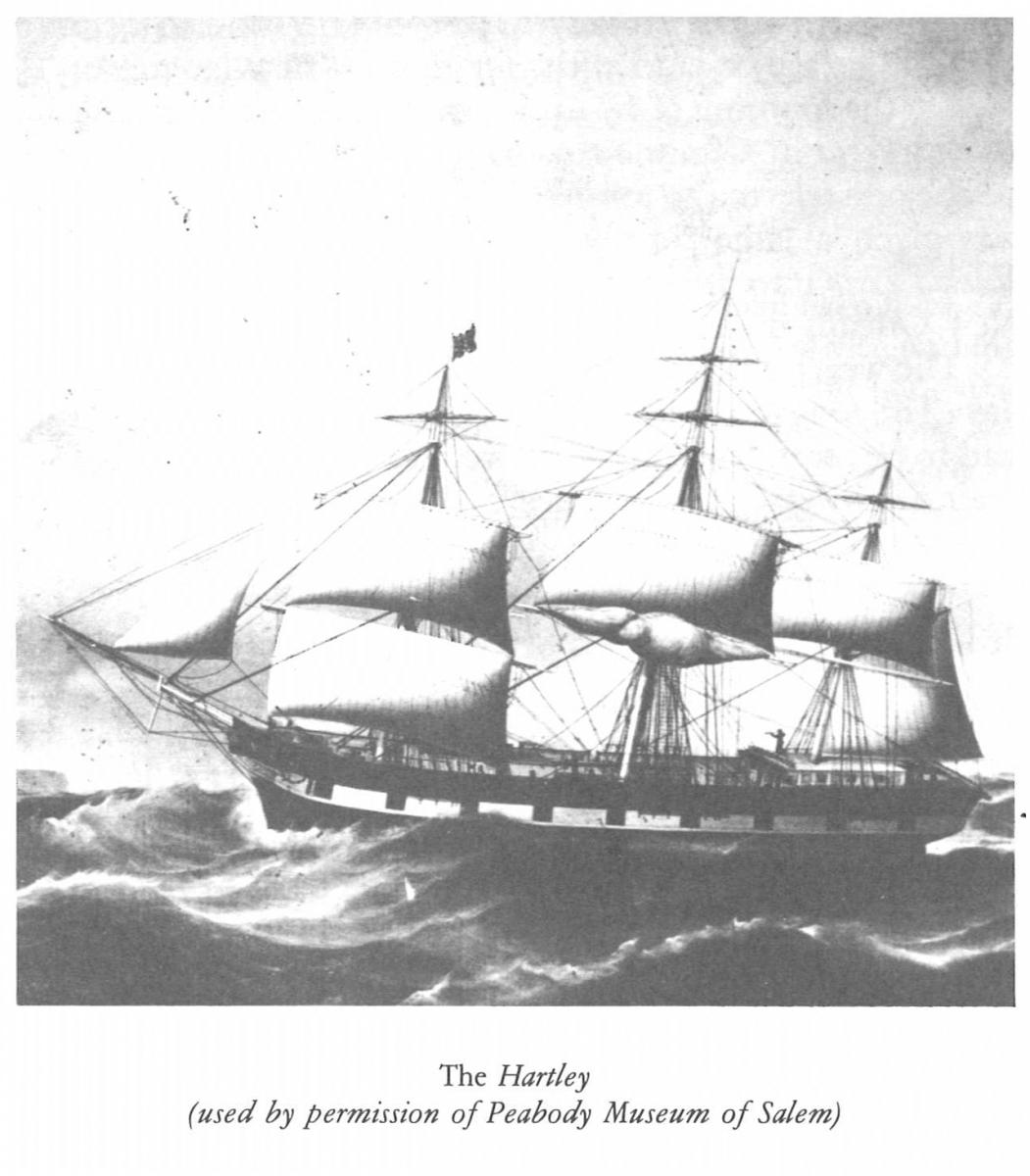 David D. Bowen recorded his disgruntlement: "All our friends and acquaintances left in the Buena Vista with Dan Jones, and we were left among strangers, to sail in another ship, and our ship was not reddy to sail for good many day yet" (19). Bowen had left Llanelli, South Wales, with his wife and two children in company with three other families. Two of these went with the first group, and two remained behind to sail with the second.
Not only did the reassignments result in separations from friends and a costly delay in a strange city, they also caused the Welsh, many of them non-English-speaking, to be thrown in with the English, Scots, and a few Irish, none of whom understood Welsh. Although all 161 of the non-Welsh passengers were also converts to Mormonism, David D. Bowen said that in their midst were "some of the meanest people" he had ever seen (21), although he did not give any illustrations of their "meanness."
Considered as a separate group, the seventy-seven Welsh on board the Hartley were similar in composition to those on the Buena Vista. Slightly fewer than half were male (35 of the 77, or 45 percent); slightly more than half were female (42 of the 77, or 55 percent). The age group distribution is shown in table 3:
TABLE 3: Age Distribution of Hartley Passengers
Age

0–10

11–17

18–30

31–50

51+

Total

20

12

24

16

5

—

77

Percentage

26.0

15.6

31.2

0.8

6.4

—

100.0
Combining the two groups, the Buena Vista and the Hartley, results in the following figures:
Table 4: Age Distribution of Buena Vista and Hartley Passengers
Age

0–10

11–17

18–30

31–50

51+

Total

79

48

95

78

26

—

326

Percentage

24.3

14.7

29.1

23.9

8.0

—

100.0
And like those on the Buena Vista, most of the Hartley passengers were part of a complete or partial family unit:
Table 5: Family Units among Hartley Passengers
Part of a complete family unit (husband, wife, and children [if any])

Total

63

Percentage

81.8

Part of an incomplete family unit (father or mother and children)

9

11.7

No apparent family attachment

5

——

77

6.5

——

100.0
Combining figures for the Buena Vista and the Hartley shows:
Table 6: Family Units among Buena Vista and Hartley passengers
Part of a complete family unit (husband, wife, and children [if any])

Total

242

Percentage

74.2

Part of an incomplete family unit (father or mother and children)

46

14.1

No apparent family attachment

38

——

326

11.7

——

100.0
David D. Bowen, because of his experience on the seas, was appointed cook for all the Hartley passengers. But for the first few days not many took an interest in sitting up to the table. Gradually business picked up and eventually got quite brisk. It was a "very disagreeable situation," as Bowen described it (20), but the one shilling he was supposed to receive from every passenger, as promised him by Orson Pratt in Liverpool, offered sufficient incentive to keep him in the kitchen. Either the passengers had not been informed about the cook's salary or they simply chose to ignore it, for when the ship arrived at New Orleans only two passengers rewarded Bowen for his services: Cadwalader Owens with 75 cents and David Peters with 25 cents. After preparing food for over two hundred people three times a day for over seven weeks, Bowen felt cheated. He stayed with the Church and the group, however.
William Hulme, president of the Saints on board the Hartley, reported a voyage that had "been more like a pleasure excursion" (185). The weather had been so pleasant and the sea and the wind so gentle that only one or two rough days had been experienced during the crossing. They reached the Bahamas on the thirty-fifth day, five days fewer than had been required for the Buena Vista. At that point, however, some calms and contrary winds delayed their progress. Consequently, the Hartley docked at New Orleans on 28 April 1849, fifty-four days after leaving Liverpool.
The only blemish to an otherwise placid sea-journey was the passing of Elizabeth, infant daughter of Joseph and Mary Stringer. She died of the croup just nine days before the ship arrived at New Orleans. Her body was placed in a tin coffin made of tea canisters; this makeshift coffin was then placed in a wooden one. The burial services were held at New Orleans.
In contrast to the strained relations between the 249 Buena Vista Saints and their captain, the Hartley company got on famously with Stephen Cammet, their captain. Things had been so pleasant that the leaders of the company drew up a letter of appreciation of Captain Cammet for "the kind, humane, and generous treatment, and the watchful care" which he had demonstrated in their behalf during the passage (Hulme, 186). And four of the sailors had so greatly admired the Mormons that they cast their lot with them and were baptized immediately on arriving at New Orleans. These were John Everett, Alfred Percy, George Percy, and Davis Wilson, all in their twenties.
Two births occurred on board the Hartley: a son was born to Joseph and Hannah Hale from Liverpool, and a daughter, Jane Hartley Eames, to Nathaniel and Sarah Eames. [1]
Notes
[1] William Hulme mentions only the first baby in his letter. See David Peters's records for information on the second.