Living the Book of Mormon: Abiding by Its Precepts
The Thirty-sixth Annual Brigham Young University Sidney B. Sperry Symposium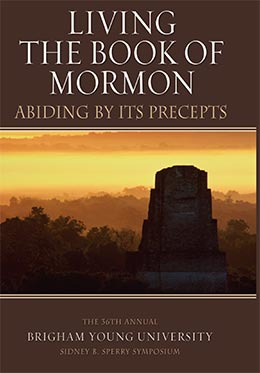 About the Book
The 36th Annual Brigham Young University Sidney B. Sperry Symposium
Mark Twain reportedly said, "The man who does not read good books has no advantage over the man who cannot read them." Perhaps a similar statement could be made regarding the Book of Mormon: the person who reads the Book of Mormon but does not follow its teachings is not much better off than the person who does not read it. The 2007 Sidney B. Sperry Symposium, Living the Book of Mormon: "Abiding by Its Precepts," focuses on how the Book of Mormon can immeasurably bless our lives as we strive to live what it teaches.
In this volume are papers presented at the Sidney B. Sperry Symposium held on the Provo campus of Brigham Young University on October 26–27, 2007. This year the symposium takes its theme from Joseph Smith's statement, "I told the brethren that the Book of Mormon was the most correct of any book on earth, and the keystone of our religion, and a man would get nearer to God by abiding by its precepts, than by any other book" (introduction to the Book of Mormon).
Topics of the 2007 Sidney B. Sperry Symposium include redemption through Christ, the "three Rs" of the Book of Mormon, and the divine precept of charity. Presenters include Elder Joe J. Christensen, Terry B. Ball, Richard O. Cowan, and Robert L. Millet.
This symposium is distinctive in that it centers on the practical application of the precepts taught in the Book of Mormon—precepts that can help us draw nearer to God.—Elder Joe J. Christensen, emeritus member, First Quorum of the Seventy.
ISBN 978-1-59038-799-3
Published in 2007