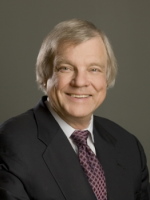 Dee W. West, PhD, was senior advisor for the Cancer Prevention Institute of California when this was written. A professor of epidemiology at the Stanford University School of Medicine, West also serves as senior advisor for Population Sciences at the Stanford Cancer Institute.
West's research interests include understanding patterns of cancer incidence and survival using cancer registry data; cancer survival, with emphasis on quality of life, co-morbidity, and treatment issues; genetic-environmental interaction as risks for cancer; and improving cancer surveillance methods, especially cancer registration.
West was principal investigator of the Greater Bay Area Cancer Registry from 1986 until 2005. During that period, he oversaw expansion of coverage for the registry from the initial five-county San Francisco–Oakland area to include the four-county San Jose-Monterey area. Over these years, the registry also enhanced its research effort significantly.
West has served as president of the North American Association of Central Cancer Registries and as a member of the executive board for the International Association of Cancer Registries. Currently, he chairs the National Coordination Council for Cancer Surveillance.
West earned his PhD in medical sociology at the State University of New York at Buffalo after receiving his bachelor's and master's degrees in sociology at Brigham Young University.