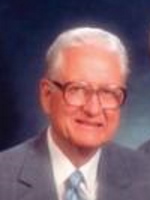 Eldin Ricks graduated from Brigham Young University in 1941 and taught English and Seminary in Overton. In the fall of 1949, Eldin also began his career as a teacher of religion at BYU. For the next thirty-two years, Eldin Ricks served as a beloved professor, teaching and sharing his testimony with thousands of students. In 1953, Sidney B. Sperry and Eldin Ricks led BYU's first Travel Study tour to the Holy Land.
Brother Ricks loved researching and studying the scriptures in his comfortable chair in the Joseph Smith Building and wrote over ten books and numerous articles, papers, and pamphlets for students of the Book of Mormon and the New Testament, including the "Wide Margin Edition of the Book of Mormon" and "King of Kings: A Harmony of the Four Gospels." He also did much of the preliminary research in putting the scriptures on computer tape, which later became the basis for the new edition of the scriptures which was published by the LDS Church from 1981 until 2013, when the new edition of the scriptures was released.
He and his wife, Irene, had four children. Eldin and Irene served a mission for the LDS Church together at the Genealogical Library in London, England in 1984 and 1985.
Brother Ricks passed away of heart failure on 7 September 1992.