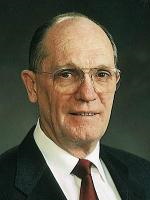 Lloyd Aldin Porter (born June 30, 1931) has been a general authority of The Church of Jesus Christ of Latter-day Saints since 1987.
Porter worked with J. Richard Clarke in the insurance business, eventually replacing him as head of an Idaho Falls agency. Porter later served as a counselor in the Boise Idaho Temple presidency. He also served as a stake patriarch in Meridian, Idaho. In 1986, he become president of the church's Louisiana Baton Rouge Mission.
Porter's term as mission president short when he was called as a general authority and member of the First Quorum of the Seventy in 1987. He served as a member of the Presidency of the Seventy from 1992 until 2001, when he was released and designated an emeritus general authority. Porter's service as a general authority included time as executive director of the church's Missionary Department as well as being a member of the Church Boards of Trustees/Education. From 2002 to 2005, Porter served as president of the Salt Lake Temple.