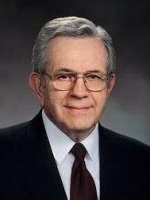 Boyd K. Packer was the president of the Quorum of the Twelve Apostles of The Church of Jesus Christ of Latter-day Saints from 2008 to 2015. He served as acting president of the Quorum of the Twelve from 1994 to 2008 and was ordained a member of the Quorum of the Twelve Apostles in April 1970. 
He was the tenth of eleven children born to Ira W. and Emma Packer in Brigham City, Utah. After graduating from high school, he served as a pilot in the United States Army Air Forces from 1942 to 1946. He flew a number of bombing missions in the Pacific theater of World War II. After leaving the military, Packer initially attended Weber College (now Weber State University), where he met his wife, Donna Packer. They married in the Logan Utah Temple in 1947 and are the parents of ten children. After their marriage, he attended Utah State University, earning bachelor's and master's degrees, and later an EdD from Brigham Young University.
In his professional career as an educator, President Packer worked in the Church Educational System, where he held various administrative positions overseeing seminary and institute programs, including as assistant supervisor of Native American seminary programs, general assistant administrator of seminaries and institutes, and supervisor of seminaries and institutes. In 1961 he was called to serve as an assistant to the Twelve and later assigned to serve as president of the New England States Mission. In January 1970, Packer, then forty-five years old, was called by newly ordained Church president Joseph Fielding Smith as a member of the Quorum of the Twelve Apostles at the April 1970 general conference.
He passed away 3 July 2015.