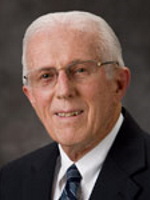 Dean C. Jessee was born in 1929 and raised in Springville, Utah, by faithful Latter-day Saint parents. A lifelong student of LDS Church history, he went on to receive a master of arts degree in that field from Brigham Young University in 1959, after which he taught in LDS seminaries.
In 1964, he was offered a job in the manuscript division of the still-maturing Church History Department, cataloguing early Church documents. During his seventeen-year employment in the archives and History Division, Dean Jessee became intimately acquainted with much of the documentation from the early Mormon period and was regarded as an authority on the handwriting of Joseph Smith and other early Church leaders. While he was working at the department, Dean discovered an account of Joseph Smith's First Vision written in 1835.
In 1981, during his last year at the Church History Department, Dean served as the president of the Mormon History Association, after which he began working at the Joseph Fielding Smith Institute for Latter-day Saint History at Brigham Young University. While there, Dean published two volumes of The Papers of Joseph Smith, which included Joseph Smith's First Vision accounts.
Dean later served as a general editor of The Joseph Smith Papers. His contributions to Mormon history span over four decades. Dean Jessee and his wife, Margaret June Wood, are the parents of eight children.