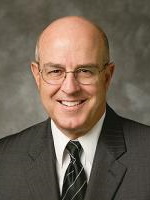 Elder L. Whitney Clayton was sustained as a member of the First Quorum of the Seventy of The Church of Jesus Christ of Latter-day Saints on 31 March 2001. He has served as a member of the Presidency of the Seventy since 2008 and has supervisory responsibility for the Utah North, Utah Salt Lake City, and Utah South Areas. He assists Elder David A. Bednar of the Quorum of the Twelve Apostles in supervising the Africa Southeast and Africa West Areas. He also serves as a member of the Public Affairs Committee.
Elder Clayton served as a counselor in the South America South Area Presidency in 2002–2003 and as president during 2003–2006, while living in Buenos Aires, Argentina. He previously served as an Area Seventy for the North America West Area for six years.
Elder Clayton was a business litigation attorney with Call, Clayton & Jensen in Newport Beach, California, from 1981–2001. He earned a bachelor's degree in finance at the University of Utah and a law degree at the University of the Pacific.
He has served the Church as a regional representative, mission president's counselor, stake high councilor, bishop, stake mission president, and Gospel Doctrine teacher. He served as a full-time missionary in Peru from 1970 to 1971.
Elder Clayton was born in Salt Lake City, Utah, in 1950. He married Kathy Ann Kipp on 9 August 1973, in the Salt Lake Temple. They are parents of seven children and grandparents of eighteen grandchildren.