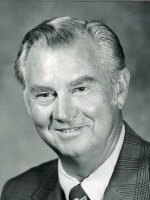 Paul Robert Cheesman (1921–1991) was an American archeologist and a professor of religion at Brigham Young University. He was born in Brigham City, Utah. His parents died while he was still young, and he oversaw his own education. He received a degree in education from San Diego State University. In California he was a public school teacher, and he later worked as a seminary teacher for the LDS Church. During the Korean War, he served as a chaplain in the United States military. In 1944, he married Millie Foster, with whom he had six children. Later, as president of the Foster Corporation, Cheesman was heavily involved in Central America, where he developed a collection and strong interest in pre-Columbian archeology.
Cheesman taught in BYU's Department of Religious Education from 1963 to 1986. He received his master's degree in 1965 and doctorate in 1967, both in religious education at BYU. For a time, he served as director of scripture studies and director of Book of Mormon studies in BYU's Religious Studies Center. Cheesman was known for research of correlations between the Book of Mormon and pre-Columbian American discoveries.
After retiring, Cheesman and his wife moved to St. George, Utah. Cheesman served as president of the Louisiana Baton Rouge Mission from 1980 to 1983. After retiring from BYU, he was director of the LDS Church's New York Visitors' Center. In New York, Cheesman suffered a massive heart attack and returned to Utah for surgery, where he died in 1991.