The New Testament
A Translation for Latter-day Saints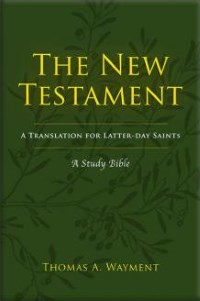 About the Book
This new translation from the best available Greek manuscripts renders the New Testament text into modern English and is sensitive to Latter-day Saint beliefs and practices. This translation is readable and accessible for a wide range of readers. The original paragraph structure of the New Testament is restored and highlights features such as quotations, hymns, and poetic passages. New and extensive notes provide alternative translations, commentary on variant manuscript traditions, and historical insights. Where applicable, the Joseph Smith Translation has been included. The notes contain the most complete list of cross-references to New Testament passages in the Book of Mormon and Doctrine and Covenants that has ever been assembled.
Brigham Young said, "If [the Bible] be translated incorrectly, and there is a scholar on the earth who professes to be a Christian, and he can translate it any better than King James's translators did it, he is under obligation to do so, or the curse is upon him. If I understood Greek and Hebrew as some may profess to do, and I knew the Bible was not correctly translated, I should feel myself bound by the law of justice to the inhabitants of the earth to translate that which is incorrect and give it just as it was spoken anciently. Is that proper? Yes, I would be under obligation."
Check out these podcasts about this book: Latter-day Saint MissionCast podcast LDS Perspectives podcast, and the Cultural Hall podcast.
Here is a BYU Universe article: BYU Professor Publishes Modern Translation of The New Testament and a fascinating audio podcast entitled Insights on the Nativity and the New Testament.
Also, here are some reviews of this book: The Interpreter, Deseret Book, and Amazon.
ISBN 978-1-9443-9467-7
Published in 2019
Watch the book trailer here: