The Book of Mormon: Another Testament of Jesus Christ
Maxwell Institute Study Edition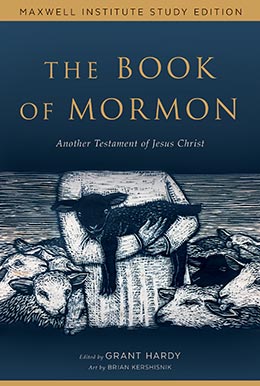 This book has not been released for online reading.
Published in 2019
ISBN 978-1-9443-9465-3
Book $34.99
Ebook $17.99
About the Book
This exquisitely produced volume presents the official Latter-day Saint edition of the Book of Mormon in an attractive, accessible, readable version that brings to Latter-day Saints the helpful features that have been part of standard Bible publishing for decades: paragraphs, quotation marks, poetic stanzas, section headings, and superscripted verse numbers. The latest Latter-day Saint scholarship is reflected in its brief, thoughtfully considered footnotes, although the focus is always on the text itself—its wording, structure, and interconnections—allowing the book's sacred message to be heard anew. The Maxwell Institute Study Edition is ideally suited to both new readers of the Book of Mormon and also those who know the book well and have loved its teachings and testimony of Christ for many years.